Ask3 for Secure
Classroom Sharing
Got classroom iPads? Harness them to let your students ask and answer each others' questions with text and their own videos. Classroom sharing is one free app away.
*Ask3 will be retired on June 20th. For more information, please read our blog post.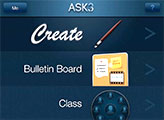 Create, Share, Ask, and Answer
Create quick, visual lessons, and narrate as you go
Students can answer each others' questions before asking the teacher
Provide an open forum for discussion, even when you're offline
Encourage your students to give constructive feedback and praise
Get An Edge on Assessment
Understand what students know (and don't know)
See what students are struggling with and personalize your teaching
Help with homework even when you're not in class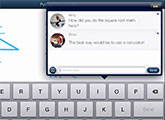 Show Them Quickly
Get your point across with popular symbols (arrows, circles, and more)
Write explanations freehand or type them in
See questions and comments easily on the dynamic timeline
Use educational photos from your iPad's gallery or built-in camera



Multiple Classes Made Easy

With Ask3 version 1.6, teachers can create multiple classes with a single email address.

It's easy to view all your classes by tapping on the class name. You can have Ask3 for each section, class or course you teach.