Upgrade to Camtasia for Mac 2
 

With the new version of Camtasia for Mac, you'll be able to produce and edit professional quality videos with ease.

 

Are you on Version 1?

 
Cross-Platform Screen Recording
Collaborate with anyone, regardless of what kind of computer they're using. We've updated our screen recording file format, so you can pass screen recordings freely between Camtasia Studio and Camtasia for Mac. Using a single file format enables you to send a recording from one platform to the other effortlessly, including all the meta data, such as cursor effects and smart focus.
Google Drive
Camtasia's new Google Drive integration lets you upload your videos into Google Drive to give your viewers access from any web browser or mobile device. You can also import files into Camtasia instantly from Google Drive.
TechSmith Fuse
TechSmith Fuse, our new mobile app, makes it simple to get exactly what you need from your devices into your projects. Send your photos and videos straight from your mobile device into Camtasia's media bin. Then, use the editing power in Camtasia to create custom, shareable videos.
Top New Features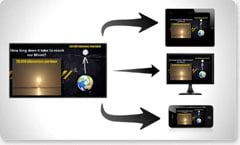 Share your videos anywhere.

TechSmith Smart Player™
Share high-quality, HD videos at anytime, on nearly any device. The TechSmith Smart Player is intuitive
and detects if your viewer's device
or browser requires Flash or HTML5 playback support. It also makes interactive elements like hotspots, quizzes, closed captioning, and table
of contents possible.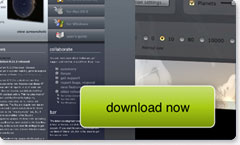 Make objects clickable.

HotSpots
HotSpots let you create a link from anything in your video. Easily turn photos, text, graphics, and more into clickable hyperlinks that allow viewers to interact directly with your video content. Whether you're linking to a purchase page, download, or just additional content, HotSpots make it easy to keep your audience engaged.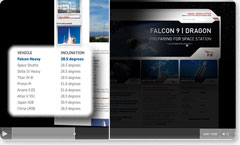 Focus on what's important.

SpotLight and Mask FX
Use Spotlight and Mask FX to easily focus viewer attention to specific actions in your videos. Spotlight FX casts a light source across your media, and the Mask FX allows you to hide your screen, revealing only specific points of interest.
Not sure what version you're using?
1. Start Camtasia for Mac

2. Click Camtasia > About Camtasia

3. In the About Camtasia box, you should see your version (highlighted).