Features
Camtasia Relay is enterprise-wide screen recording. Multiple people can record meetings, training sessions, lectures and more with just 3 clicks. Once recorded, the files are automatically sent to the server and made available for viewing.
For Presenters
Share your knowledge quickly and easily by recording all your meetings, lectures and presentations. With Camtasia Relay, it's 3-click easy to capture audio, on-screen activity and keyboard/mouse input.
For Administrators
Easily handle all processing and publishing of captured recordings. With "set it up and let it run" features like LDAP authentication, on-demand recording, automatic email notifications, and flexible encoding and publishing settings, Camtasia Relay helps IT and system administrators work behind the scenes effortlessly.
For Viewers
Camtasia Relay fits perfectly into today's fast-paced, multi-tasking business and academic environment. Meetings, lectures and presentations recorded with Camtasia Relay can go anywhere a laptop, iPod or mobile device can go - giving your people the information they need, right when they need it.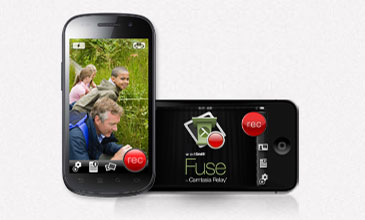 On-The-Go Content Creation
Record on a Mac or Windows computer anytime, anywhere with the freedom of the portable recorder. You can even incorporate webcam video to add yourself to the presentation.  
Choose how much you want to edit. Simple trimming is available in Camtasia Relay, or send your recording to Camtasia Studio or Camtasia for Mac for a full video editing suite.

Camtasia Relay's mobile app for users on-the-go! Designed for use with Camtasia Relay 3.1 or later, TechSmith Fuse® allows you to record camera video with your iOS or Android phone – just as easy as the Camtasia Relay recorder on your desktop.
Smart Features
Get a high-quality video, every time. Camtasia Relay automatically detects and adjusts your microphone and gives you the option to select other microphones if you choose.
Don't worry about forgetting to record. When you open PowerPoint, Camtasia Relay automatically asks you if you'd like to capture your presentation.
Relax, automatic notifications tell you when your video is available so you don't have to monitor progress.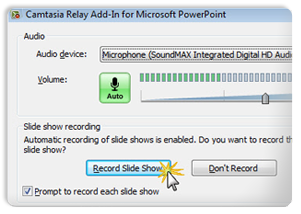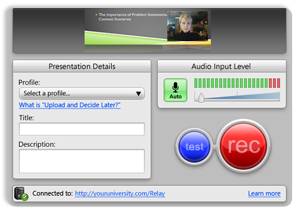 Hassle-Free Recording
The simple recorder interface lets you focus on your presentation, not worry about technical details.
No additional passwords to remember. You can log into Camtasia Relay with your existing credentials.
Guests can record quickly without making any decisions. You can determine what to do with the recording once
it's created.
Easy Sharing
Easily share your Camtasia Relay recordings to familiar places such as YouTube, Blackboard, Moodle, iTunes U, and more.
Viewers can watch recordings from anywhere, on any device – their PC, Mac, iPod, iPad, iPhone – you
name it.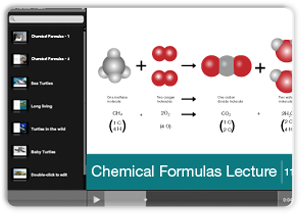 Reviewing to Get the Answers
They Need
Viewers can watch lectures, meetings, and presentations as many times as they need.
Captioning makes Camtasia Relay videos accessible
to everyone.
Getting to the Good Stuff
Viewers can jump directly to the content they need by searching for a word or phrase that appears on a slide,
or even words spoken during the recording.
With the table of contents, users can eliminate the need to rewind and fast forward, and jump right to the spot
they want.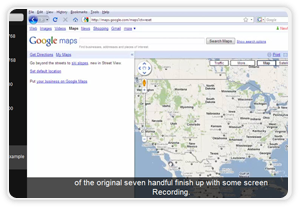 Accessing Videos in Familiar Places
Camtasia Relay easily integrates with familiar systems such as YouTube, Blackboard, Moodle, an existing file server, any web or FTP server, iTunes U, Screencast.com, and more!
Viewers can watch recordings from anywhere, on any device – their PC, Mac, iPod, iPad, iPhone – you
name it.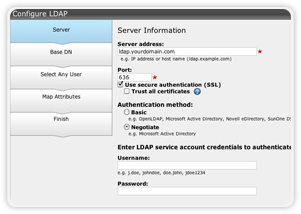 Meeting the Needs of Presenters
With Camtasia Relay's flexible profiles, you can work with presenters to easily set up how recordings are produced and where they should go.
Audio transcription can be set up to happen automatically on the server, giving your presenters and viewers searchable video and/or captions.
Captions can be edited with the global caption editor, allowing anyone to fix captions for any presentation.
Free Technical Support
Free phone and electronic technical support directly
from TechSmith.
Free online tutorials and extensive documentation.
Easy Setup and Maintenance
LDAP authentication lets you easily and securely add users with automatic import.
Profiles allow automatic management of video processing and publishing options.
The administrator dashboard and notifications alert you when something needs attention.
Supports Industry Standard Formats
Camtasia Relay produces industry-standard video formats including Flash, Windows Media, Silverlight, and MPEG-4.
No need to maintain or install custom video players for presenters or viewers.