Easy Administration and Deployment
Camtasia Relay ensures flexibility in processing and publishing captured recordings. With features like LDAP authentication, on-demand recording, automatic email notifications, and adjustable encoding and publishing settings, Camtasia Relay allows IT and system administrators to strategize as well as manage the process behind the scenes.
Easy Set Up and Maintenance
LDAP authentications let you easily and securely add users with automatic import.
Profiles allow automatic management of recorded video processing and publishing options.
The administrator dashboard and notifications alert you when something needs attention.
Three graphs located on the System Administrator Dashboard allow administrators to stay up-to-date with trends of usage data, and the time it takes to encode or produce a video.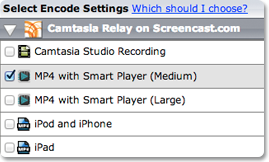 Flexibility and Power
Presenters can easily set up how recordings are produced and where they should go with flexible profiles.
Audio transcription can be set up to happen automatically on the server, giving your presenters and viewers searchable video and/or captions.
Captions can be edited with the global caption editor, allowing anyone to fix captions for any presentation.
The intuitive recording process requires minimal user training.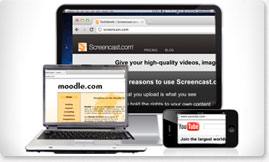 Familiar Publishing Destinations
Easily share your Camtasia Relay recordings to places you know such as YouTube, Blackboard, Moodle, Screencast.com and more.
Viewers can watch high-quality videos from anywhere, on nearly any device with the TechSmith Smart Player™.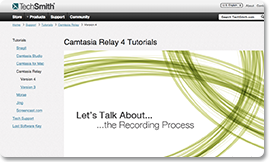 Free Technical Support
Free phone and electronic technical support is provided directly from TechSmith.
Free online tutorials and extensive documentation can be found here.