Camtasia Relay Overview
Why Use Camtasia Relay?
For Business
Allow subject matter experts to easily share their knowledge with your entire organization.
Record customer presentations or demonstrations to reuse or showcase on your website.
Help remote employees stay up-to-date with the ability to watch and replay meetings and company trainings.
Provide clear and consistent communication within your organization by recording new procedures, training programs, or other presentations.
For Education
Flip your classroom by recording lectures for your students to review outside of school.
Help students master concepts they find difficult or absent students catch up by producing video tutorials.
Add a personal touch to hybrid or online classes by recording presentations for students to watch remotely.
Make communication within your school easier by recording new procedures, training programs, curriculum presentations, and more.
Benefits of Camtasia Relay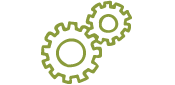 It's Easy to Set Up
With "set it up and let it run" features like on-demand recording, automatic notifications, and flexible encoding and publishing, Camtasia Relay helps IT and system administrators easily manage the process.
It's Simple to Use
Camtasia Relay is 3-click simple, making it easy to capture audio, on-screen activity, and keyboard/mouse input for e-learning. Record content on the go with TechSmith Fuse® and share out your recordings.
It Fits Your Budget
No contracts. No per-seat licenses. Get unlimited users and only pay for what you record. With one-time pricing starting as low as $4,999 for education and $7,999 for business, why not start using Camtasia Relay today?