Using Camtasia Relay is as Simple as Pressing Record
With just three clicks, you can use Camtasia Relay's presentation recording to capture and share your knowledge quickly. Simply press record to capture audio, on-screen activity, and keyboard/mouse input during lectures, presentations, and meetings.
Presenting Your Content is Easy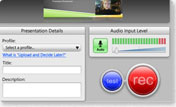 Flexible Recording
Record on a Mac or Windows computer anytime, anywhere! Make your internal or flipped class videos more enagaging by incorporating webcam video of yourself in the presentation or by using TechSmith Fuse®, Camtasia Relay's mobile app to record real world camera video with your iOS or Android phone.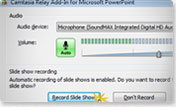 Smart Features
Camtasia Relay allows you to create high-quality videos by doing the thinking for you! It automatically detects and adjusts your microphone, helps you select other microphones, alerts you of lost audio, reminds you to record your presentation, and sends you notifications when your video is ready.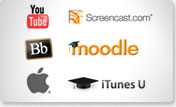 Easy Sharing
Sharing your video content is easy. Create production settings, so presenters don't have to search for the correct options each time. Let Camtasia Relay handle the audio transcription on the server and utilize the global caption editor, so anyone can fix captions for any presentation.
Sharing and Viewing Your Content is Even Easier!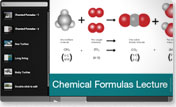 Quickly Get to the Good Stuff
Viewers can jump directly to the content they need by searching for a word or phrase that appears on a slide, or even words spoken during the recording. They can also use the table of contents to jump to the right spot.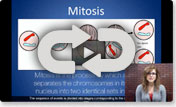 Replay Your Content Over and Over
Recording lectures, meetings, and presentations allows your viewers to watch as many times as they need. Plus, Camtasia Relay's captioning functionality makes videos accessible to anyone, which makes it great for internal and external training or the flipped class model.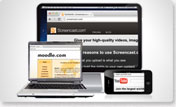 Access Videos in Familiar Spots
Easily integrate with familiar systems such as YouTube, Blackboard, Moodle, an existing file server, any web or FTP server, iTunes U, Screencast.com, and more! And, your viewers can watch presentation recordings from anywhere, on any device – their PC, Mac, iPod, iPad, iPhone – you name it.