May News 2012
Letter from the Editor
I've said it before and I'll say it again - we LOVE getting your feedback! It's incredibly important. We believe the best way to improve our products, processes, and company as a whole, is to get feedback from our favorite people - you!
In fact, some of our best ideas come from our customers. Take the recent additions to Camtasia for Mac 2.1, for example. With the latest release, you can now easily speed up or slow down any video clip, or use a green screen effect to put yourself in the action. Sound cool? It is! And we didn't just randomly choose these new features, we heard the requests loud and clear coming from our customers.
What you say matters. And what works for one person might not work for someone else. That's why we're always striving to find the best solution for everyone. So, give us some feedback, or take a few minutes to fill out a survey. Every little bit counts!
Usability Testing Survey
Much like our survey process, we conduct usability tests to ensure that our products are working as they should for our customers. Some benefits of participating in usability tests include: being able to provide feedback and guide our product direction, getting the occasional sneak peek of products while still in-development, Amazon gift cards/free product licenses.
Sound like something you'd be interested in? Grab your spot!
User Conference Research
We'd like to know how you feel about user conferences and what you'd like to experience at a TechSmith user conference. Do you want training? Do you want to meet the developers? Learn how to screencast? Let us know! We are considering holding user conferences sometime in the near future and would love to host one near you.
So please, give us your feedback on user conferences!
Next month I'm handing over the newsletter reigns to Lauren Buskirk, one of my writing colleagues here at TechSmith. No worries though, I'll be back in July! I know you'd miss me terribly (kidding).
Thanks for reading!
Nikki Wickham
Newsletter Editor
newsletter@techsmith.com | @TechSmith | contact support
Snagit Help: Get Tutorials Tailored Just for You!
Toss your worries aside, we've got the solution to your Snagit problem! With the new question and answer series for Snagit users, we'll answer your Snagit questions and help you utilize the features and effects you may be missing.
Who is this for?
Anyone. If you've ever had an idea for an image, gone into Snagit to create it, and had it turn out close - but not quite right - we can help.
How to participate.
Send us your Snagit graphic in its original .SNAG file and we'll give you tips on how you can make it better. Each month, we'll pick one or two Snagit creations to showcase in the newsletter to help everyone learn how to produce creative, eye-catching images in Snagit.
Interested? Send your images to helpmycapture@techsmith.com. We're ready and waiting!
U.K. News: Camtasia Needs You!
We're very proud to announce that Camtasia has been selected as a finalist at this year's Software Satisfaction Awards 2012 (SSA12). Camtasia has been highlighted for its screen recording excellence in Human Resources & Human Capital Management category.
The SSA12 awards represent excellence in the business software industry and are judged by genuine purchasers and end-users of business software. This allows the most important critics – you, our customers – to let us know your thoughts.
We would appreciate it greatly if you could participate in the customer survey, letting us know how satisfied you are with Camtasia. It's entirely anonymous, so please do be honest with your views. The online survey closes at 5:00pm on Friday June 29th, and will take less than a minute to complete.
Survey: Are You in Sales or Marketing?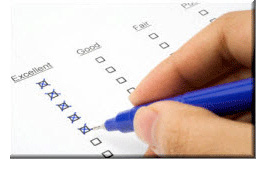 Lots of you tell us you use Camtasia Studio and Camtasia for Mac to create amazing sales and marketing videos, so we were thrilled to be contacted by The Aberdeen Group, a Boston-based market research firm. We talked to them about how TechSmith products help our customers... now it's your turn! You can take the survey, Rich Media for Sales and Marketing: 'Facts Tell, but Stories Sell.' By participating, you'll contribute to a nationwide report on how effective companies tell stories through webinars, online content, video and other rich media.
EDU News: Introducing the New Academic Solutions Team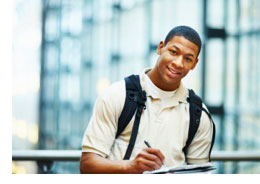 TechSmith is excited to announce that a new team has recently been formed called the Academic Solutions Team.This team will focus solely on education and how we can help solve some of the challenges that educators face at all levels and in all types of institutions.

We are extremely excited to collaborate with you and look forward to being an integral part of the constantly changing landscape of education and digital learning.
While the team is only a few weeks old, we're working on several projects that we'll be happy to share along the way. Until then, we would love to hear from you!
We want to know what matters most to you—the educators and support professionals on the ground and in the classrooms. We want to learn about your classrooms, your experiences, your challenges and successes. We also want to help give you a larger voice in the community and help you share your ideas. We're all ears, so send us an email at education@techsmith.com!

We would also love to meet you at the upcoming education shows that we will be attending. If you are planning to be at the Flipped Conference in Chicago in June, ISTE in San Diego in June, BLC in Boston in July, or Educause in Denver in November, drop us an email. We would love to chat with you in person!

Other TechSmithies will be out and about as well, so check our events calendar to see if our paths will cross in the near future.
Happy Learning!
TechSmith Academic Solutions Team
The Forge: Catch the Next Episode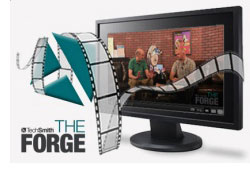 Tune into the next episode of The Forge on May 17th at 2pm Eastern.
We will be talking to Brandy Agerbeck (@loosetooth) Graphic Facilitator and author of The Graphic Facilitator's Guide.
We'll have a special announcement. Two words – Screencast Camp!
Plus, more top-notch information you don't want to miss.
If you missed our last episode you can catch it here or watch all of season 2. The easiest way to catch The Forge is to subscribe to the Visual Lounge Blog and the TechSmith YouTube Channel. Sign up to be notified of the latest episodes as soon as they happen.
User Story: Throughout His Career, Snagit Was There
Colin Green is not what you would consider a fair-weather fan. He's been a Snagit user for nearly 20 years and continues to rave about its performance.

For almost 30 years, Colin has been heavily involved in the exhibition industry in Australia. As a former representative for COMDEX in Australia and New Zealand, Colin used Snagit to send floor plan screenshots out to potential customers to show them the availability of various plans.
"This was a nightmare for all of the agents worldwide but never for me," said Colin. "When my colleagues expressed their frustrations with me, I shared my secret. It created a stampede to go and download Snagit."

Now teaching International Exhibiting as Best of Show across Australia and New Zealand, Green puts together hours of PowerPoint slides and found that it was far easier to snag various pictures rather than importing them. "Even now when I need to personalize a presentation with logos, it is much more convenient to snag from client web pages and remove backgrounds with Snagit than any other way."

Colin also owns Captain Coffee, an online business where he manufactures and sells coffee and chocolate covered coffee beans. When communicating an error or requesting a change in layout, he simply takes a screenshot to send to the programmers. "I have done all of my label designs this way too. The designers will send me thoughts and ideas and I reply by taking a snag of their graphics, ideas, and documents, annotating and replying," said Colin.

"It has been my most valuable utility for years—and I guess it always will be!"
Learn How Others are Using Snagit »
Like this story? Share yours! We're ready and waiting.
User Story: From Teacher to TechSmithie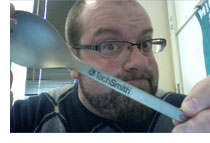 Meet Jason Valade. Jason is the new customer solutions engineer for TechSmith's Academic Solutions Team.
Up until last Friday, Jason was a technology teacher at the elementary level, interacting with approximately 900 third, fourth, and fifth grade students each week. Now, in his new role with TechSmith, he'll be responsible for helping to craft individualized solutions for their schools and districts looking to implement TechSmith products.
Since Jason only had 45 minutes each week with students, he knew he'd have to find other ways to incorporate technology into their learning. "It become my goal to help teachers find ways to do what they normally did in the classroom, but enhance it with technology," Jason said.
For elementary level teachers, Jason recommends a few key things to think about when trying to integrate technology into the classroom:
Technology is always changing. Typing skills are important, but keep in mind that a majority of students now have smaller mobile devices and are typing with their thumbs. I like to teach keyboard awareness, so they have the general skills, but I also acknowledge that there are new devices and new ways of communicating.
Technology opens the door to a vibrant teaching community and tons of resources. It's easier to find games, lesson, etc. online through different networks, and you can share what you're learning too!
Don't be surprised that your students, regardless of age, are probably going to know more than you do about some of the technology you're working with. Don't be afraid to learn from your students.
Technology doesn't need to be a laptop computer or tablet. When I was in school, technology was an overhead projector or a tape deck. Do some research about unique forms of technology that you can introduce to your students, and don't be afraid to try something new.
While his focus as a technology teacher was on his students, Jason also found himself providing support and instructions for teachers. "I loved teaching and working with the kids, but I also really loved helping the teachers too," Jason said.
That's what led him to apply for the position with TechSmith, he said. "While it was tough to say goodbye to my students, it was exciting to share that I was going to be able to help kids, teachers, staff, and parents all over the country and beyond."
Jason will join the Academic Solutions Team at ISTE and the Flipped Conference in June.
Connect with Jason on Twitter »
Like this story? Share yours! We're ready and waiting.
Ask TechSmith: Send Us Your Questions!
If you haven't visited yet, our feedback website allows you to ask questions publicly to get the help you need, while helping others. Asking your questions this way allows you to get feedback from TechSmith staff and users like you, and even engage in helpful conversation.

So, check it out and ask away! You never know what you might learn just by browsing the site, someone may have already asked/answered your question. But if not, TechSmith will be there to help you as soon as possible.
New Blog Posts: May Blog Recap
See the latest happenings from the TechSmith blog-o-sphere...
Snagit Tutorial: Capture Quickly Using OneClick
Capture images, videos, and text even faster with OneClick, Snagit's quick-and-easy capture option.
Positioned anywhere you want on your desktop, you can use OneClick to capture your screen using Snagit's pre-set profiles, or profiles you've set up for yourself.
So, check it out! This tutorial will teach you how to turn on OneClick so you can start capturing content even faster. The rest is up to you.

Have a tutorial idea? Let us know!
Snagit Expert Tutorial: Downloading Profiles and Outputs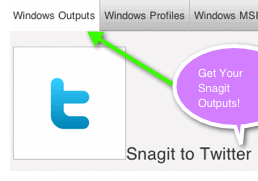 Installing outputs and profiles can help streamline your Snagit capture process and tailor it to fit the needs of your personal workflow.
We've got a huge variety of Snagit profiles and outputs for you to choose from on the TechSmith website, and downloading them is easy.
So check out this tutorial to quickly learn how to download Snagit profiles and set up outputs for those profiles, so you can go from capture to share in one click.
Have a tutorial idea? Let us know!
Snagit on Mac Tutorial: Create a Mockup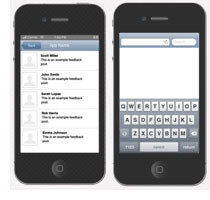 Did you know that you can use Snagit to create mock ups for mobile devices, websites, applications, and more? Snagit offers iOS, OSX, and Windows standard interface stamps for you to showcase your work on the device it was meant for.
In this tutorial, you'll learn how to compile mock-ups in Snagit, including how to:
Add stamps
Add shapes or lines
Add text
Flatten objects on the canvas
Share your mockups
Have a tutorial idea? Let us know!
Camtasia Studio Tutorial: Cut Unwanted Video and Audio on the Timeline
No matter how precise and careful you are when recording your screencasts, there will probably be times when you want to cut out a section of audio or video, or split a clip into two. This tutorial will teach you how to make those precise selections and instruct you on how to:
Unlink clips on the timeline
Lock individual tracks
Make edits to the timeline
Cut out sections on the timeline
Have a tutorial idea? Let us know!
Camtasia Studio Expert Tutorial: Fix or Update Your Recording
Have you ever recorded a PowerPoint presentation with Camtasia Studio, and later found out that you had a mistake on one of your slides? Maybe you misspelled a word, or had a graphic that needed to be updated.
In this tutorial, you'll learn how to fix that mistake in your project, without having to re-record your presenation.
Have a tutorial idea? Let us know!
Camtasia for Mac Tutorial: Zooms and Jump Cuts
This awesome tutorial comes to you from Marlene Hielema, Camtasia for Mac user and skilled video tutorial creator.
According to Marlene, the ninja techniques in this video show you how to do fake zooms and jump cuts from just one video clip. Sound cool? Check it out! And don't miss Marlene's YouTube channel - ImageMavenVideo - full of useful tutorial videos.
Have a tutorial idea? Let us know!
Camtasia Relay Tutorial: Audio Tips
Audio set up can make or break your Camtasia Relay recordings - they're not helpful if people can't hear them! That's why it's always a good idea to take some time and ensure your audio is set up correctly.
With this tutorial you'll learn how to:
Verify you are recording the correct audio input
Use auto adjust or manually adjust the input level
Obtain a good external microphone
Verify audio inputs are enabled
Use a powered audio input
So take a few minutes and make sure your audio is pitch-perfect. Your audience will thank you later!
Have a tutorial idea? Let us know!
Jing Tutorial: Preferences and Settings
Jing doesn't have a ton of features or complex options, and that's what makes Jing so easy to use. But, the features it does have all live in one place.
If you haven't adjusted Jing's preferences and settings to your liking yet, this tutorial will help you take the next step.Check it out to learn more!
Have a tutorial idea? Let us know!
Morae Tutorial: Customize Observer for Your Session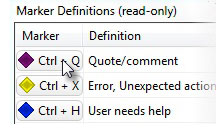 Do you know how to customize Observer for your sessions? Well here is your chance to find out!
To help you view your recordings more easily, Morae allows you to customize how you view and log a session. You can customize by:
Adjusting the view of your recording session
Using Picture-in-Picture
Adjusting the marker definitions window
Have a tutorial idea? Let us know!