How do I extend the duration of a callout?
Situation: You have a callout on the Timeline, but you want it to stay on the screen for a longer period of time so you're certain your viewers will have time to read it. First you have to know how to extend the duration. Next, if you want the callout to span a clip, you'll need to know a work-around for that as well.
To adjust the duration of the callout, zoom in on the Timeline and drag the edge of the callout. The fastest way to zoom is if you press and hold the <CTRL> key and rotate the mouse scroll wheel. Or, you can click the zoom in zoom out buttons.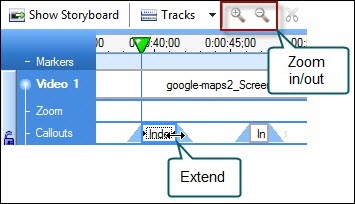 But what happens if you extend the callout and reach the end of a clip? You can't go any farther! Here's where a little work-around comes in very handy. First things first you have to copy the callout. Right click the callout can click Copy Callout. Right click on the Timeline and click Paste Callout. Note that the callout may not appear exactly where your cursor is. Click and drag the callout to the position on the other side of the split.
If your callout has fade in and fade out properties like in the example below, you'll probably want to remove the fade out effect from the first callout, and remove the fade in effect from the second callout. To remove the fade effect, double-click the callout. The Callout Properties panel appears. Uncheck the fade in or fade out effect as needed.