Getting Started 5: Timeline Basics
The timeline represents the sequence of all clips, effects, text, and shapes in a video. The playhead's position controls the display of the video preview on the canvas. The timecode is shown to the right of the playhead in Hours: Minutes: Seconds; Frames.
Make a Selection
Select a portion of the timeline: Press Shift and drag a selection on the timeline.

Select a clip: Click on the desired clip.

Select multiple clips: Shift-click or Command-click the desired clips.
Selecting media makes a selection on the timeline and on the canvas. The Properties pane displays the properties based on the selection.
Arrange Media on the Timeline
To add media to your video, drag recordings, clips, shapes, text, and effects from the Media & Library pane or from one of the Effects panes onto the timeline.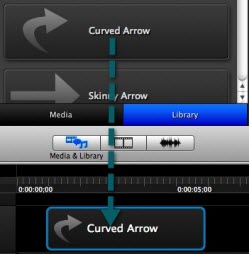 Dragging media horizontally on the timeline controls when the media appears in the video.
Dragging media vertically controls whether the media appears in front or back of other media.
Timeline Scale
Drag the Timeline Zoom slider to zoom in or out on the timeline. Click
to zoom in to the maximum size for precise editing or click
to zoom to the previous zoom level.