Recorder Overview
The image below maps the features of the Camtasia Relay recorder. The descriptions below offer explanations and advice intended to provide the best Camtasia Relay experience possible.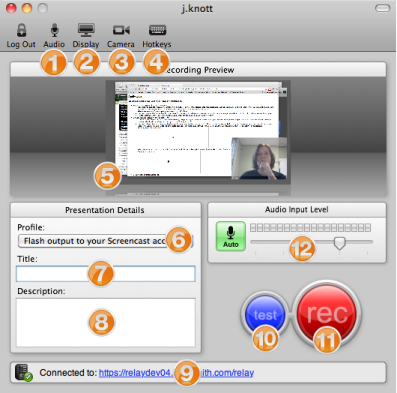 Audio configuration. If automatic audio adjustment is enabled, you do not need to use this audio configuration. However, if you choose to control your audio manually, click here to select a microphone and set volume levels.

Display selector. If you have more than one display available, click here to select a display to record.

Camera selector. Click here to turn on your camera and select which camera you'd like to record. By default, camera is set to "do not record."

Hotkeys. Click here to set hotkeys for record/pause and stop.

Recording preview. A preview of what your recording looks like when it has finished processing. You can also click here to select a different display to record. You are currently limited to recording one display and one camera at a time.

Profile selector. Select the profile you'd like to apply to your recording.

Title. Give your presentation a meaningful title here, or wait until after you've completed your recording, but before you send it to the server.

Description. Describe your recording topic, or describe what the recording contains. If you prefer, you can also enter the description after you've made your recording, but before you send the recording to the server.

Connection indicator. Lets you know if you are connected to the server (indicated by a green check for connected) and the name of the server you are connected to.

Test recording button. Clicking this button allows you to make a brief test recording to ensure that your display, camera, and audio look and sound as you expect.

Record button. Click this button to begin your recording. After a three-second countdown, the recorder minimizes to your toolbar or dock. Click on it (or use a previously configured hotkey combination) to stop your recording, trim the ends, and send it to the server.

Audio indicator. Allows you to toggle the automatic audio adjustment feature on or off, and provides a visual indication of your audio levels. If automatic audio adjustment is off, you can adjust audio volume levels here.