The FTP Button
Do you have your own FTP server or website? You can create an FTP (or SFTP) button and Jing will upload your images and videos for you. In fact you can have multiple FTP buttons to send content to different folders or servers.
To create an FTP button: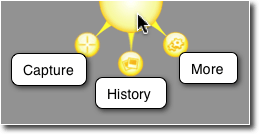 Click More > Preferences.
Click Customize Jing Buttons. Click the FTP icon. The dialog looks similar to the example below.

Optional: Change the Button description (name).
Enter the server address.
Choose either FTP or SFTP. Then enter the port number (usually 21 for FTP and 22 for SFTP), directory (optional), and username and password to the account. Be sure to click the Test Settings button to verify settings.
Choose Custom Code from the Clipboard contents drop down menu if you would like Jing to provide you with a link or specialized code for your content.
Click Save.
Is custom code something that might apply to you?
If you would like Jing to provide you with a link to your content, you have to specify some custom code. This is also true if you would like Jing to return custom embed code. Jing can also supply highly sophisticated code so advanced users may be able to specify their own templates, controllers, and more.
Most people use Jing to upload content and then receive a link they can paste into emails, chat rooms, instant messages and so on. The viewer clicks on the link to see the content.
Embed code shines because you can place the image directly into your blog or website. This allows viewers to see the content without having to leave the page. View the Custom Code help topic.
Here's an example. On the left I have a link to an image. On the right I've chosen to take the embed code to the image. As you can see, it's the same image, but you don't have to click anything to see the embedded image.