The Twitter Button
In addition to tweeting your normal text, use Jing to also include a link to an image or video. This is a great way to enhance your short tweets with visual content.
To start using Jing with Twitter, you need to do two things. First, if you don't have a Twitter account, create one. Make note of your username and password. Next, create a Twitter button in Jing.
To create a Twitter button: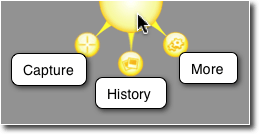 Click More > Preferences.
Click Customize Jing Buttons, and click the Twitter icon.
Optional: Change the Button description (name). 
Click Get Twitter PIN. A Twitter webpage opens requesting that you allow Jing to access your Twitter account.
Enter your username and password then click Allow. (Username and password will not appear if you are already signed in to Twitter.) Twitter generates a custom PIN that adds a little more security and connects your Jing application with your account.
Copy the PIN to your clipboard.

Note: This generated PIN is a unique number only used for this session. You will need to obtain a new PIN for each computer on which you have Jing installed.

Return to Jing, and paste your PIN into the field provided. Jing does not respond to the Alt + tab (Windows) or Command + Tab (Mac) keystroke command. If you lose Jing, look in the Taskbar on Windows or try mousing over the Jing sun on Mac.
Click Authorize. After a short delay, the dialog will update with your Twitter account information and you should be authorized. 

Note: You may notice the dialog is updated to display the Screencast.com account associated with this button. Your captures will be hosted here, but if you want to host them on a different Screencast.com account, you can do that too.

Click Save.
Close the Customize Jing Button dialog(s).
To tweet with Jing:
Capture an image or record a video as you usually would.
Click the Twitter button in the Jing Preview Window. A Twitter dialog opens, and your content starts uploading in the background.
Start typing your tweet. You don't have to wait for the upload to complete. When the content is finished uploading, Jing converts the Screencast.com URL into a shorter Bit.ly URL.

Note: If for some reason the URL cannot be converted (e.g. Bit.ly is down), Jing will use the original Screencast.com URL.

Click the Tweet button. Your tweet is posted to your followers and anyone else in the world who might see it!