The YouTube Button (Jing Pro Only)
Note: Jing Pro is no longer available for purchase. Learn more.
Jing Pro can send videos directly to YouTube. Be sure that you record videos in MPEG4-AVC format. YouTube does not support SWF video format. It's also good to select a 4:3 or 16:9 aspect ratio for best results. There is a slight delay as YouTube returns the link to your content and processes your video.
To upload videos to YouTube you need to do two things. First, sign up for a YouTube account. (Make sure you click the confirmation link in the email YouTube sends you.) Next, create a YouTube button in Jing.
To create a YouTube button: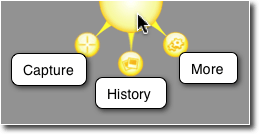 Click More > Preferences.
Click Customize Jing Buttons. Click the YouTube icon.
Optional: Change the Button description (name).
Enter your YouTube account username and password. (On Macintosh just enter your username and you will be prompted for your password upon your first YouTube upload.) The account username should not be confused with the email address you may use to sign into YouTube. An example is circled below. 
 
Select whether you want your YouTube button to return a link to your video or embed code.
Click Save.
Creating HD quality videos using Jing and YouTube
You can use Jing to record any video and upload it to YouTube. However the quality may not be ideal as YouTube may resize or "squish" your video. To make the best videos for YouTube follow the following directions:
Initiate your capture.
Important: Hold Shift (enables 16:9 aspect ratio) then click and drag to select your recording area. Your dimensions should be 1280 x 720. Jing will snap to this popular dimension.
Record your video as normal.
Click Stop, then click the YouTube button. Your video will upload to YouTube and you will receive a link.
Note: YouTube must process your video and can take a number of minutes depending on how busy YouTube is and how long your video is. Do not be alarmed when you try the link and find the video is not yet there.
We also discussed this topic and created an informal video over on the Jing Blog.
Learn about YouTube Embed Code
Embed code is html that allows you to insert the video right into your website, blog or other html-based media. This is unlike a link people must click to view your video in another location.
Here's an example. On the left I have a link to an image. On the right I've chosen to take the embed code to the image. As you can see, it's the same image, but you don't have to click anything to see the embedded image. It's the same idea for videos. For example, the video at the top of this page is embedded and there is no need to click a link to watch it in another location.
Here is some sample YouTube embed code:

YouTube video embed code is pretty short and sweet. There are a few things to be aware of.
If you want to resize your video, note the four places you must change (yellow highlights). Remember to keep the same ratio or the video may appear squashed or have black bars on the sides or top of the video in order to keep the aspect ratio the same.
You can change the allowFullScreen value to "false". Doing so does not remove the full screen button from the player. It simply does not work if the viewer clicks it.
If you resize the video too small, your player will lose some buttons such as the full screen and menu button.
If you really want to go nuts and add a bunch of options to your embed code, check out Google's YouTube API.