Introduction to All-in-One Capture
The All-in-One input (and the new default All-in-One profile) combines the functionality found in the Region, Window, and Scrolling Window inputs. You no longer need to select a new input or profile every time you want to change what you want to capture. Instead, pick exactly what you want to capture after you've hit the Capture button or hotkey. Don't worry about how Snagit is set up; just capture what you want when you want it.
Here's how All-in-One capture works.
Region
To capture a region, click and drag the crosshairs. Release your left mouse button to take the capture.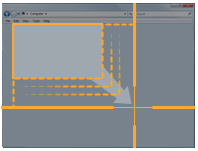 As you slow your mouse cursor, a magnifier fades in near the crosshairs. This provides a close-up of the area under your crosshairs, like a microscope for your screen. If you need pixel-level precision, use the arrow keys on your keyboard to move the crosshairs one pixel at a time.
Window
Hover over a window, or an area inside a window, and click to capture it. Click a window's title bar to capture the entire window.
If the window has rounded corners, those corners appear transparent when captured.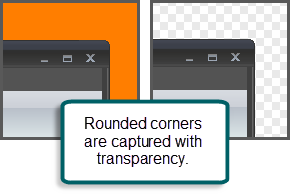 By default, windows that use the Windows Aero theme (available in Windows 7 and Vista) are cleaned up when they are captured. This option can be changed to capture the image as it is (like a region capture) or to capture the window with actual transparency (resulting in partial transparency in the title bars).
Change window capture title bar transparency options by clicking the Profile Settings Pane > Input dropdown > Properties > General tab.

Scrolling Window
When Snagit detects a scrollable area inside a window, scrolling buttons appear. Click on a scrolling button to take a scrolling capture. The arrow on the buttons indicates which way the window is scrolled during capture.
Vertical scroll

Horizontal scroll
Vertical and horizontal scroll
Hotkeys
You might have noticed that All-in-One capture has quite a few features. Snagit includes hotkeys for all of them, both for accessibility and ease of use. Here's a table listing the different hotkeys that you might find useful.
| | | |
| --- | --- | --- |
| Action | Hotkey | Notes |
| Help | F1 | Help window |
| Maginifier | M | Toggle the magnifier |
| Move cursor | Arrow keys | Move the cursor 1 pixel. Hold <CTRL> and press the arrow keys to move the cursor 15 pixels. |
| Region | Enter | Begin a region capture. Press enter again to take the capture. |
| Window | Enter (twice) | Hit enter, and without moving the crosshairs, hit enter again to take a window capture. |
| Vertical scroll | V | Take a vertical scrolling window capture if the crosshairs are over a scrollable area. |
| Horizontal scroll | H | Take a horizontal scrolling window capture if the crosshairs are over a scrollable area. |
| Diagonal scroll | B | Take a vertical scrolling window capture if the crosshairs are over a scrollable area. |
| Cancel | Escape | Cancel the capture, or in the case of region selection, cancel the region selection. |