Basic Snagit Tips and Tricks
Here are some tips and tricks that can help you get the most out of Snagit.
Whether assembling common captures into profiles or just changing the color scheme of the Snagit user interface, these tips can save you time and help you make great looking images.
Change the Color of the User Interface
Don't like Snagit's default black color scheme? Not a problem. Silver and blue themes for both Snagit and Snagit Editor are available.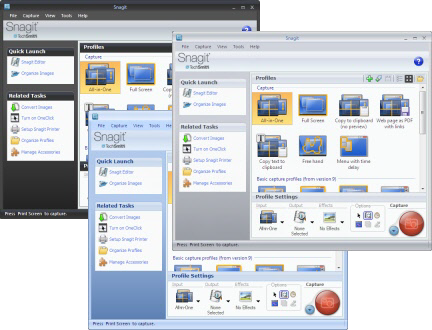 In Snagit: Tools > Program Preferences > Program Options tab > Color scheme dropdown
In Snagit Editor: Snagit button > Editor Options > General tab > Display options > Color scheme dropdown
Create Profiles for Common Tasks
Find yourself changing the same settings over and over? Create profiles that match your most frequently used configurations. For more on profiles, see Creating Capture Profiles.
Skip the Editor, Go Straight to an Output
Don't need to edit your screenshot, or perhaps you want to send your screenshot straight to the Clipboard? Change your capture output options to skip the Editor.
First, select an output from the Output dropdown menu in the Profile Settings pane. This could be the Clipboard, an output to a particular program, or even straight to a file.
To skip previewing your capture in the Editor, deselect the Preview in Editor option in the same menu.
Tip: If you want access to these settings, consider saving them as a profile.
Preview Transparency in the Tray
Curious how the transparent parts of your image look without the checkerboard pattern that indicates transparency in the Editor? Check out your Open Captures Tray.
The thumbnail previews in the Open Captures Tray show your transparent images on a black background and on top of the dark gray background or the orange selection color of the Tray itself. This isn't always a preview of how your images looks on your intended background, but it gives you an idea of how it might look against a similar dark background.
Ctrl + Selection to Clone Areas
Holding <CTRL> while moving a selection created with the selection tool doesn't move the selection, but instead makes a copy. This copy flattens after you've moved it, just like a normal.
Use this technique to quickly "clone" an area to fill in gradients, create copies of buttons or text fields, or anything else you might want to quickly copy and place.
Use the SNAG File Format to Archive Projects
To save vector object information (all those callouts, pasted images, and the other stuff that makes the Editor neat), use the SNAG file format. When you take a capture, this is the format that Snagit uses to auto-store your image until you save it to your preferred file format.
If you want to edit your image again later, save a copy as a SNAG file. These files aren't viewable outside of Snagit, but they save all the information about your capture so can move all the elements.
A Few Basic Design Tips
Screenshots benefit from the same ideas and techniques that a graphic designer uses when creating content. Here are a few to think about when creating images.
Rule of thirds: The human eye finds some images more interesting than others. Dividing an image into thirds show you where the most interesting parts of your images should be. Visually divide your image into thirds both horizontally and vertically, creating nine boxes. Try placing things like callouts, arrow, and text along those lines for maximum impact.

Color selection: Use complimentary colors (colors located opposite on a color wheel) in your effects to create a look of cohesion in your image. 
 
Think about context: What do you want your audience to look at? Is it important that they see your screenshot in the larger context of what was on your screen, or is it better to trim all that away and just show the exact window or button you want to call attention to? Deciding may help your image communicate your message better.