The Library and Organizing Captures
The Library displays the history of your previous captures. To open the Library, click the Library icon in the bottom-right corner of Snagit Editor.

Snagit automatically tags and organizes captures based on metadata. By default in the Library, captures are tagged by capture type, capture date, and which application or website it was captured from.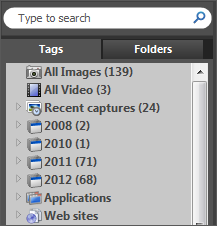 The metadata information collected for a capture appears in the Details section on the Tags tab.
Use keywords and flags to customize the organization of your captures.
Keywords
You can add your own personalized keywords to captures. The example below shows keywords based on captures taken while searching for a house. The keywords in this example were added to mark the houses that included the desired amenities and grouped by their price range.
Select a capture in the tray.
On the Tags tab, enter the desired keywords or click the All Keywords dropdown to select an existing keyword.

Separate keywords by commas.
Use quotation marks around phrases.


Click Enter to save the keywords.
Snagit adds the capture into the keywords tags entered on the Tags tab.
Flags
Flags apply a visual icon to capture thumbnails in the Open Captures Tray and in the Library.
Select a capture.
On the Tags tab, click to assign the desired flag(s).
The flag icon appears on the capture thumbnail in the Open Captures Tray and in the Library.