Use Profiles to Save Settings
A profile is a saved selection of mode, input, output, effect, and option settings. Configure common capture settings and save them as a profile.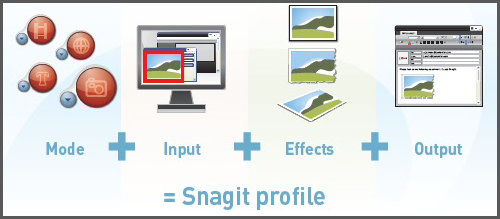 Tip: You can assign a specific hotkey to a profile in that profile's settings.
Profiles are made up of the following settings:
Mode: The type of capture you want to take. The four modes are image, text, video, and web. To change the mode, click on the blue button next to the Capture button. 
 
Input: How you select what is captured. This could be a region, scrolling window, or even a freehand area drawn with your mouse. There are lots of inputs to choose from, but the All-in-One input combines the three most popular (Region, Window, and Scrolling Window) into one input. 
 
Output: This is what Snagit does with your capture after you take it. You can send it to your Clipboard, e-mail, an FTP server, automatically save it as a file on your computer, or upload it to Screencast.com. You can even send it straight to another program. By default, the capture is previewed in the Editor. The Finish Profile button sends your capture from the Editor to your selected output. 
 
Effects: Snagit can automatically add effects to captures before they are sent to their output destination, or before they are previewed in the Editor. By setting an effect to be done automatically, you can skip the need to use the Editor entirely. 
 
Options: Six global options that exist for captures. These options aren't available for all types of captures; unavailable options appear disabled. 
 
All together, these settings can be combined to create something like a circular capture with a drop shadow that is sent directly to a PNG file on your desktop, or perhaps a window capture resized to 400 pixels and inserted into your current Microsoft PowerPoint project.
Save Settings as a Profile
Once you build the capture you want, you can save those settings in a profile. Profiles appear in the area above the Profile Settings pane and give you quick access to stored setting configurations. To save your current settings as a new profile, click the Save as New Profile button
.
(The Save Profile button saves your current settings in the selected profile. This replaces the settings in the default profiles if one of the profiles are selected. You probably want to create a new profile instead of making changes to an existing one.)
Default Profiles
Snagit comes with seven default profiles. These profiles are designed to fit common capture needs.
| | |
| --- | --- |
|   | All-in-One: An all purpose profile, All-in-One fits the needs of most users most of the time. The All-in-One input can capture regions, windows, and scrolling windows. |
|   | Full Screen: Captures the entire screen. If using multiple monitors, captures all monitors. |
|   | Copy to clipboard (no preview): Uses the All-in-One input to capture regions, windows, or scrolling windows and sends them directly to the Clipboard. Bypasses the Editor. |
|   | Web page as PDF with links: Uses the All-in-One input to capture regions, windows, or scrolling windows along with any hyperlinks in the captured area. Saves the hyperlinks as hotspots in the image in a PDF file. Bypasses the Editor. |
|   | Copy text to clipboard: Uses the All-in-One input to capture RTF text from regions, windows, or scrolling windows. The text is placed on your Clipboard and previewed in Editor. |
|   | Free hand: Uses the Free Hand input to capture a region defined by the user with a free hand drawing selector. |
|   | Menu with time delay: Uses Menu input to capture program menus. Timed Capture option is enabled, which causes a delay between when a capture is initiated and when it is taken. A timer appears on-screen to indicate when the capture is taken. |