Introduction to Video Capture

Video capture mode in Snagit records a simple video file of your screen. This video is one continuous recording; the only editing available is the ability to pause and resume your recording.
In addition to saving the entire video as an AVI file, you can save individual frames of a video as images. This makes video capture mode great for taking a series of captures from a long workflow.
To record a video with Snagit, change the capture mode to Video using the small blue Mode button next to the red Capture button.
Tip: Use video capture often? Create a new profile to save your customized recording settings.
Recording
After selecting what you'll be recording using the selected input method, the Snagit Video Capture dialog appears. This dialog displays information about your recording. Click the Start button to begin recording.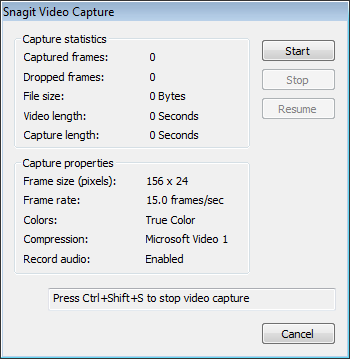 Press Print Screen or double-click the Snagit Video Recording icon in the system tray to pause the recording and bring up the Snagit Video Capture dialog. Resume to continue recording, or click Stop to finalize your recording. Clicking Cancel deletes your recording, discarding the file.
Tip: When paused, you can move the location, but not the size, of the recording area by dragging the frame around the recording area to a new location.
Warning: Video recordings in Snagit have a 1 GB file size limit. When you hit 90% of that limit, your recording automatically pauses and warns you. At 100% of the limit, your recording stops and the Snagit Video Capture dialog appears. Press Stop to finalize your recording, or Cancel to discard your recording.
Editing
When viewing a video recording in Snagit Editor, a special Video tab appears in the ribbon. In addition to standard play controls, there are frame controls that allow you to scrub through the video one frame at a time in order to find the exact frame you want to save.
The only other option available on the Video tab is the Save Frame button, which saves the currently displayed frame as an image file.
The video is scaled to fit in the current Editor window. No zoom options are available when viewing a video. Below the video is a small playhead that can be used to manually scrub through the video.
Video Options
Snagit is configured to automatically determine the best framerate for your video, but if you like you can configure these options yourself. To configure video recording options, go to Profile Settings pane > Output > Properties > Video File tab and uncheck the Auto-configure checkbox.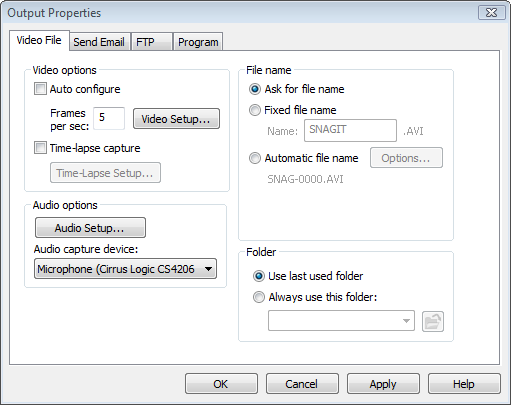 Framerate is the number of frames of video recorded per second. A higher framerate creates a smoother video, but a larger file.
The default codec is Microsoft Video 1. You can record your AVI with other codecs installed on your system, but remember that viewers need to have that codec installed on their computer as well. To change the codec, go to Output Properties > Video Setup.
Audio Options
There are generally two types of audio that most users want to include in a video recording: microphone and system audio. Snagit can only record audio from one source; the default audio source for recording audio is microphone (if present).
To select an audio source, go to Profile Settings pane > Output > Properties > Video File tab and select a device to record from the Audio capture device dropdown.
Tip: System audio (what you hear out of your speakers) doesn't have a consistent name because there is no standard among hardware manufacturers. Look for names like "Mixer," "Stereo mixer," "Mono mix," or "Wave out."