Students Teaching Each Other
Eric Marcos, 6th grade math teacher at Lincoln Middle School in Santa Monica, operates Mathtrain.com, a site that features math video lessons (a.k.a. mathcasts) created by his students. See how Eric came up with the idea for mathcasts and how to make your own!
Interview: Eric Marcos and Mathtrain Make Learning Fun
How did you begin doing mathcasts and why did you launch Mathtrain?
I started Mathtrain.com with the goal of creating a class web site where I could post homework assignments online, as well as offer students and their families a variety of resources. Back then, I wrote the HTML code by hand. I eventually moved my web site to Moodle, a free open-source course management system (CMS). At the same time, I purchased a Tablet PC and discovered Camtasia Studio. These three things immediately made a positive difference in the impact I could have as a teacher.
Right away, I saw the opportunity to use Camtasia Studio as a tool to help my students. At times, students email me with questions or ask for assistance with their math homework. In the past, I would have to try to explain a math concept or problem via a text email message. This was not ideal, especially when it came to trying to insert proper operations and symbols.
But once I had Camtasia Studio, I started recording individualized mini-tutorials. Within 15 minutes or less, a student could access a quick video tutorial I made for them and watch it on Screencast.com. The students were always amazed, thankful, and best of all the videos usually helped them grasp the concept they were struggling with. The students would often comment that it was like having their own personal tutor.
That's when I decided I wanted to build a library of math video tutorials—at least one for each math topic we cover. I made a few myself, but quickly realized that a student—in his or her own words, voice and handwriting—might be better.
What educational benefits do you see in having students teaching students?
Our superintendent Dianne Talarico said it best: "[Screencasting] engages the students and allows them to take an active part in their own learning. Such methods of teaching and integration of technology not only increase content retention, but also make the learning process fun for students."
My students are gaining not only math skills, but also important artistic flairs, self-confidence, and pride in the presentations they make with Camtasia Studio.
Do you just set students loose with Camtasia Studio or train them first?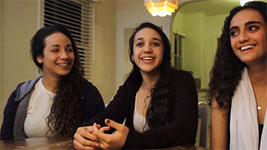 Kids are amazing! They picked up the basics of how to operate Camtasia Studio right away. And the way the program is set up, it really is kid-friendly. Of course, there are many features that are new to them. Camtasia Studio is quick to learn, but let's face it—it is a powerful, professional tool. There are so many features and settings for the "experts" to tweak and master. Luckily, my students seem to have a thirst for learning new things. So at times I am training them and other times they are training me, or each other.
"Making mathcasts was very easy. All I did was do what I usually do on paper, but instead I put it on the computer and explained how I did each step." - "Bob", 6th grader and mathcast pioneer
The mathcasts are so fresh and fun to watch…are they scripted?
The videos are not scripted and the performances are not rehearsed. This seems to keep a natural tone and enthusiasm in the student's delivery. I think a viewer can tell when a video lesson is scripted or well-rehearsed. It can feel forced. We want the viewer to feel like the student-instructor is talking directly to them, in their normal voice and words.
In preparation for recording, usually the student will work out the problem ahead of time (just like I do as a teacher, so I can familiarize myself with a topic and think of effective ways to teach it). From there, they basically hit "record" and go.
Are there any legal or permission issues involved with having the kids "appear" in the mathcasts?
Safety and privacy are always a concern, but fortunately our screencasts do not depict any images of the kids. Only voice and writing are used. And the students use aliases. This has become an unforeseen benefit, because they get extremely excited when they get to pick their own mathcast "screen name."
The parents and guardians have been hugely supportive. Most realize that we are doing something pretty creative that's making learning fun. And those who are not tech-savvy have at least heard others call our students "pioneers." Several parents/guardians have stopped by our classroom after school to watch us record some screencasts. My goal is to get them to make one, too!
Have they been well received?
The response has been tremendous. The parents and school staff are impressed with the quality and uniqueness of the student-created videos. Even our district has begun to take notice, and we thank TechSmith for making us look so good.
A couple of our videos were picked as front page features on teachertube.com. And another video is being featured in a U.K. math site. Our first mathcast was played by educational consultant Alan November during his keynote address at the Los Angeles County "21st Century Learners Symposium." This was quite an honor to the former 6th grade student, "Bob", who created the math video lesson.
Examples of student-created mathcasts
Mr. Marcos' Five Tips for Student-Led Camtasia Videos
#1 - Get a Tablet PC
They are portable (unlike a Smart Board) and easy to use. It's a great way to create a screen recording because writing on tablets is natural. You can lay it flat and use it as if you were writing with a pencil and paper.
#2 - Keep it short
This is something I struggle with myself, but shorter is usually better. It cuts down the file size (thus, it loads quicker) and you are more likely to keep the viewer's attention. One parent suggested I try to keep the videos under one minute. That is usually my goal now, but sometimes you just need more time.
#3 - Take time to edit
Editing videos can be time consuming. But it is worth it. We snip out extra blank spots and trim the length down during the editing process. We strive for consistency within each video. Take time to fix audio levels and watch the video several times to see how it comes across. Then, insert callouts or zooms as needed to make the screencast more effective to your target audience.
#4 - Make it look good to engage viewers
The great thing about screencasts is that there is both audio and visual content. Without overloading the viewer, we try to make the presentation look appealing. Obvious maybe, but it is important to remember to try to make your presentation engaging. This has been especially important with a subject like math and our potential audience of teens and preteens. We use visual cues, such as different colors, diagrams and supportive callouts. These really can enhance a presentation.
#5 - Use Screencast.com to save time
I have to include this because it really does save time. In the past, I spent too much time uploading videos to my server. Then I had to organize them, and create links to them. With Screencast.com, I can create a video and then immediately upload it with just a single click. Once it is uploaded, Screencast.com automatically creates links for embedding the media into my web page, direct linking (URL), HTML code and it even allows me to send a link via e-mail.