Growing Blog Readership, Followers With Helpful Video Tutorials
Business Owner and Photographer Uses Camtasia to Share Tricks of the Trade
Meet Ryan Oakley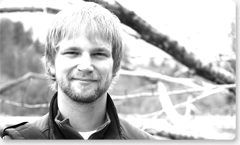 If you've ever doubted the concept of efficient multi-tasking, Ryan Oakley is proof that it can be done. Ryan is a traffic engineer by day, a photographer by weekend, and a blogger by night. He's also a proud father and an avid visual communicator, which comes in handy in all of Ryan's roles.
Documenting the Learning Process
Ryan is the first to admit that he's not what you would call a 'photography guru.' A trip to Thailand with his wife and his first point-and-shoot camera led him to his newfound hobby. Once he was hooked, he started his own photography blog, Photography On The Side, and has been continuing to learn the craft.
"My goal with the blog is to focus on giving more than I receive. I want to help others by teaching as much as I know...and what I'm learning as I try new things in the photography business world," said Ryan. "Breaking into the photography business can be scary. We all need help. I'm happy to spend time and energy to help my readers by sharing my successes and failures."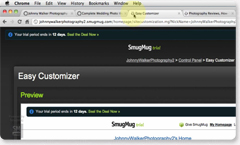 Ryan's first video series shows photographers how to create a professional photography website using SmugMug. SmugMug is a photo hosting service Ryan has been using since 2005. He started using Camtasia for Mac to create short instructional videos showing people how to get the most out of the service by walking them through the sign up process, all the way to having a fully customized and functional website for their photography business.
"The biggest problem (and thus opportunity) in communication today is not choosing the right 'medium.' It wouldn't make sense for me to simply record audio when explaining how to set up a site, just as it wouldn't make sense to use a video tutorial if I wanted a two-way conversation," said Ryan. "So I think it's important to be fluent in the various communication options out there and to choose the one that's most appropriate. The people that can do this will have a huge advantage in the business world. And Camtasia is a key part of my growing communication toolbox."
The Golden Rule for a Business Owner
As a business owner, Ryan tries his hardest to live by the golden rule: under-promise and over-deliver. This philosophy has helped him create his own unique style and earned him a reading audience of passionate photographers.
"Since publishing the tutorials I created with Camtasia, I have received emails, tweets, and blog comments thanking me for creating and sharing the videos. That is the greatest reward," said Ryan.