Helping Clients Become Social Media Rock Stars
Consulting Business Creates How-To Videos With Camtasia
Meet Madalyn Sklar
Madalyn Sklar, president of Social Networks for Musicians (SN4M), is an entrepreneur, music business coach and consultant, blogger and author. With SN4M, Madalyn helps musicians and music business effectively create and manage their social networks. She's also the founder of GoGirlsMusic.com, the oldest and largest online community supporting women in music.
Helping Musicians Find Harmony With Social Media
Madalyn works with musicians to help them better understand how social media can help them grow their audience. She produces 'how-to' videos with the help of Camtasia Studio, Snagit, and Screencast.com.
"Camtasia makes it so easy for me to teach people how to do things with social media," Madalyn said. "For instance, when I want to show a new client how I implemented a function on their Facebook page, I'll whip out a quick 'how-to' video tutorial showing the process."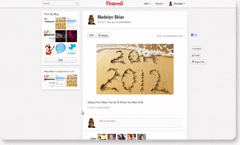 "Camtasia has increased my business production and helped boost my credibility over the years as a leader in social media. Prior to this, I conducted tele-seminars. Nothing compares to 'seeing' it in action with video versus a conference call where people have to visualize what I'm saying. This makes a big difference!"
Madalyn creates personalized videos for clients and shares them via Screencast.com. "I've researched various sites and ways to post videos online," she said. "I was most impressed with Screencast.com. I signed up for additional bandwidth, which gives me plenty of storage and speed. I also love the folder utility, where I can populate a folder with videos and password protect it for a client or for those purchasing one of my video tutorials. It's very quick and easy!"
Madalyn commented, "If I could give Camtasia a theme song, it would be the old Linda Ronstadt song 'It's So Easy to Fall in Love.' Seriously! I'm in love with your software. I use it every day in my work, and it enhances everything I do."