Sometimes all it takes is looking at a specific moment to improve your performance.
Using Coach's Eye for something unrelated to sports? We'd love to interview you. Sign up here, and we'll be in touch.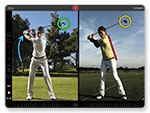 Instant Video Analysis
Record your athletes on the field, review their technique on the spot, and help them to make immediate corrections. No other video analysis tool has ever gone with you everywhere or been so fast and easy to use. Start using it now, and watch your athletes improve their game.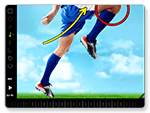 Slow Motion and Frame-by-Frame Scrubbing
Our unique flywheel is optimized to allow fluid, precise scrubbing of video. You'll be amazed at how easy it is to identify and review an athlete's actions using slow motion playback, or by simply dragging your thumb back and forth on the flywheel. Looking to rapidly skim the video? No problem, give the flywheel a flick to move through your video at a lightning quick pace.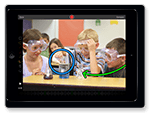 Audio Voice Over and Drawing Tools
Adding an audio voice over and annotating your video with our drawing tools is simple. Use freehand lines, freehand arrows, straight lines, circles, and squares to get your point across. Our touch-based drawing tools and audio voice over capabilities make marking up and breaking down footage like a pro effortless.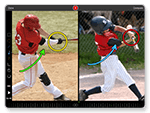 Side-by-Side Video Comparison
Tell both sides of the story with split screen video comparison. Quickly see how your skills stack up against others, or watch yourself improve over time. Mark up individual videos or compare across both. Get your videos in sync with separate controls. Lock the flywheel to have both videos move together for optimal analysis.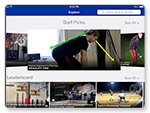 Find Inspiration from the Community
Visit the Explore tab within Coach's Eye to get inspired by popular videos found in our Leaderboard and Staff Picks. Scan the map to see what others are working on around the world. When something sparks your interest, tap the Like button to bookmark the video, or tap the Import button to download it. Mark up your discoveries and share with anyone you'd like.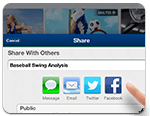 Deliver your videos to the people who need them. Extend your coaching beyond the boundaries of your training facilities by sending your video reviews to athletes via text message, email, Facebook, Twitter or YouTube. You can also save videos to your device or share them to other apps like Dropbox or Edmodo.
Coach's Eye now offers exclusive athlete videos from USA Track & Field. Compare with the world's best!   
Visit the Coach's Eye website to learn how the app can help you or your athletes get better, faster.