Managing Transformational Change in the UK Government
Mark Foden has been a change management professional for over two decades and is one of the directors of Foden Grealy, a management consulting firm located in the United Kingdom. Foden Grealy specialises in providing "sleeves-rolled-up" help which has been influential in enabling substantial, usually IT-related change in the UK government.
Background
The UK government is cutting costs, which means things are changing. The Cabinet Office is orchestrating an IT reform to support departments to innovate, digitise and use new commercial models to improve how public services are delivered. The goal of the government's Efficiency and Reform Group is to work collaboratively with departments to save at least £8 billion in 2012 and 2013, eventually hoping that these changes will save the public sector £20 billion a year by 2015 and maximise economic growth.
Foden Grealy is helping to realise these goals by helping to make government better, cheaper and faster. The company creates workable strategies and sets up programs that will enable the government to more efficiently

address issues connected with information strategy, procurement, security and policy.
"We're about enabling some pretty radical changes in the way things are done and moving away from rather inefficient IT services to a much more effective, platform-based IT," said Foden. "I am hugely impressed by the way our government is approaching these challenges, but I did feel there was a lack of a simple high-level explanation of what they entailed. The changes happening are quite seismic, and I thought I could help explain some of the less clear elements to a wider audience."
Foden's challenge was to not only articulate the changes to key players, but to first grab their attention. To do both, he needed to find a way to deliver his messages clearly and simply.
"What we want to do is catch the attention of people who are responsible for implementing IT in government and help them to think about these things differently," said Foden.
Solution
To do that requires great communications, and Foden Grealy delivers. Going above and beyond written text explanations, the company has an excellent website that engages people immediately, clearly gets across the key messages they want to deliver and reinforces them with short, explanatory videos.
"We want to catch attention by doing things slightly differently – with a little bit of funkiness," said Foden.
Foden, with the help of Camtasia, created three 60-second videos, one of which almost instantly turned viral. Foden keeps the videos short with an integration of humor to hook interest. He uses very simple graphics and keeps his videos clean in format to appeal to all audiences, whether they are senior managers or tech-savvy youngsters.
"I find that a lot of videos take too long to get to the point," said Foden. "I've tried to go in the opposite direction and make videos that just get to where they need to get to straight away. I think the 60-second format has worked spectacularly well for us."
Process
Foden's latest video, 'How new technology will change the mechanics of government services - in plainish English', was created in one week. Half of the week was devoted to the creative process and thinking about how to get the message across. Once that was decided upon, the process quickly sped up. One day was devoted to writing the script, one day to preparing the graphics and one day to recording the sound.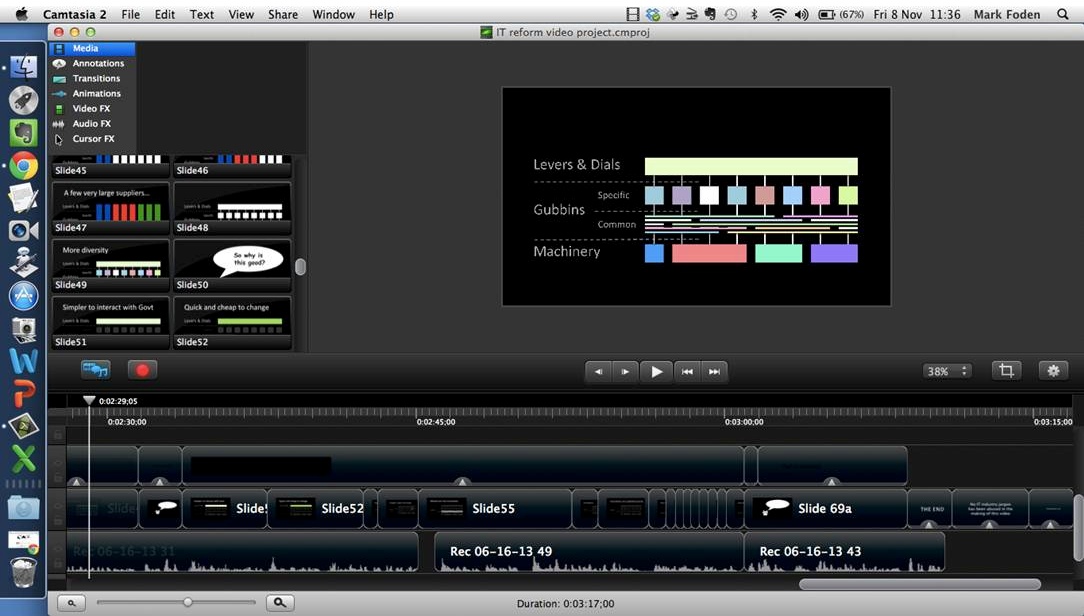 Foden used Microsoft PowerPoint and TechSmith's Camtasia. He was able to create the basic images in PowerPoint and then export them into Camtasia, where he used the software's Annotation function to overlay text and combine the visual elements of the video with the audio.
"Camtasia wasn't expensive and it was easy to learn," said Foden. "There were great tutorials to get me started, and I was able to create what I think was a good result, after just my third time using the software. I put a lot of effort into making the videos look great and it was pretty easy to do with Camtasia."
Feedback
Foden has received a lot of positive feedback on his videos from people who are quite influential in the IT department of the UK government. They have said that the model in the video is more than just fun—it can be used for multiple purposes and has been already. In addition to UK government officials, the videos have been a hit with other professionals as well. A professor at Cambridge University, for example, has incorporated the video into his lectures.
"I have to say, every second of that week I spent making that video has been paid back. It really has been tremendous," said Foden.