Teach Your Students Even When You're Absent
Scenario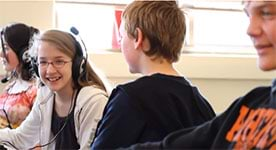 Rob had to take an unexpected chunk of time off work because he got called up for jury duty. Instead of leaving his guest teacher and students to fend for themselves, Rob used screencasting to teach his classes throughout his jury service.
Rob's screencasts allowed students to continue learning without missing a beat, helped prepare guest teachers to cover the material, and enabled Rob to return to school with his students up to speed on the curriculum.
Try It!
Do you ever get frustrated when your students fall behind because you had to miss class? You can use Snagit to pre-record your lessons, just like Rob did. Here's how!
Make sure you have Snagit installed on your computer. If you don't, you can try Snagit free for 30 days. For this tutorial, we're using Snagit on Mac. If you're using Snagit on Windows, your interface will look a little different, but you can still do everything outlined in this tutorial.
Start by writing a quick outline of what you'd like to cover in the video. This doesn't have to be perfect; it's just there to help you remember everything you want to talk about once you start your recording.
Close any personal windows and exit any programs with pop-ups so you don't accidently capture something you don't want to show your students.
Open any documents, PowerPoint presentations, websites, and other digital materials you want to show your students.
When you're ready to begin, click the Video Capture Mode button, then click the Capture button.

Next, select the area you want to record. For this activity, we recommend that you do a full screen capture. To do a full screen capture, move your cursor so that the entire screen is highlighted and click. Two exceptions to this suggestion are 1) you're using a really large monitor to do your recording, or 2) you plan on sharing your video to a location that requires specific dimensions for the size of your video. If you get confused when selecting a region to record, check out the help window pictured below in either the bottom left or top right corner of your screen. If the window isn't visible, press H to toggle the help window on and off.


Now that you've set your recording area, you need to make sure your audio is ready to go. Check your audio levels by talking into your microphone at a normal speaking level. If the activity in your audio meter is green, then you're good to go. To change your audio input, choose your desired input source from the dropdown menu to the right of the audio meter. To ensure that your video is easy to understand, we recommend that you use a lapel microphone.

When you're ready to begin, click the record button to start a three-second countdown. Then, follow your outline as you record your video.

While recording, you can toggle your webcam and system audio on and off as needed when you'd like to include those elements in your lesson.

Remember, the microphone is recording everything and probably picking up background noise. Pause your video if you have to take a phone call or you need to gather your thoughts. Click the stop button to end your recording when you're finished.

At this point, take a few minutes to preview your video and make sure you covered everything you want your students to hear. Don't worry about any little mistakes. This video will probably only be viewed once—and only by your students and the guest teacher, so you don't have to worry about making everything perfect.

Rob uses Edmodo to share his videos, but Snagit gives you a number of output options for your video. Posting your video to Screencast.com is an easy way to share your video with students. When you click the "Share to Screencast.com" button, your video will be uploaded and the link for your video will be automatically added to your clipboard. All you need to do is paste the link where your substitute teacher and students can access it. If you don't have a free Screencast.com account, you'll be prompted to create one the first time you share a video to Screencast.com.
Tips and Tricks
Rob uses Snagit to record his lessons, but you can also use Camtasia for Mac or Camtasia Studio. Compare these products and see what's best for you.
Rob likes to include his webcam in his videos to connect with his students. To add video from your webcam while recording with Snagit, either make sure webcam is enabled in the video tab prior to clicking the Capture button, or toggle webcam on or off in the recording bar.
Just like you sometimes have to be absent from class, your students won't always be in class either. You might want to consider recording your classroom activities to help absent students get caught up. This will save you time and keep your students from falling behind due to a missed class.
---