Learn New Teaching Skills Without Breaking the Bank
Scenario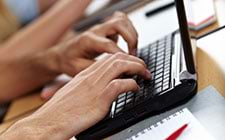 Getting the necessary training for teaching in order to keep up on skills and trends in education can be time consuming and expensive. Dr. Roland Rios has created a unique strategy to stretch his limited budget and help more teachers at his school learn about new instructional technologies: Student Tech Interns. Roland's interns love the opportunity to take on a leadership role in their school, and the screencasts they create help teachers across the school get the information they need, when they need it.
Roland's technology intern program engages his students and helps him reach and teach more teachers than he ever could alone. 
Try It!
Does your school struggle with paying for and scheduling relevant professional development opportunities? Empower tech-savvy students (or teachers) at your school to record and share training screencasts, and you'll maximize your teachers' learning opportunities. Roland uses Jing, Snagit, and Camtasia Studio in his school, but we're going to show you how to help your experts use Snagit and Camtasia for Mac to create great training and how-to videos. Here's how!
Getting Started
To start a program like Roland's, you'll need either student interns or teacher volunteers. If you can, we recommend choosing student interns like Roland's. Students can make excellent teachers when given the opportunity. While technological skills are important, Roland advises that it's crucial to recruit students with excellent communication skills who will be confident when recording training videos.
Make sure the right program(s) are installed on your computer (or the computers your experts will use). Before you can determine which programs to install, you'll need to decide what types of videos you want to make. There are essentially two types of videos your experts can make: one-offs and polished videos.

One-offs can also be considered throw-aways. These videos will likely be viewed only once by a small number of people. One-off videos are great for recording quick tips to shoot out via email, or to help an individual teacher with a one-time problem. If you will only need one-off videos, Snagit is probably a good choice for you.



Polished Videos are videos you want to keep around long-term. Polished doesn't mean 100% perfect, but it does mean that the video has been carefully edited to remove mistakes and add clarity. Polished videos are a great choice if you want to build a repository of training videos for your school. If you want to create polished videos, Camtasia for Mac (or Camtasia Studio) is for you.
Now that you've determined which programs you need, we'll give you instructions on each type of video so you can try it out for yourself. Roland finds that his student interns typically do best when he points them in the right direction and then lets them figure it out for themselves, but these instructions are a good place to start.
Video Prep-Work
Create an Outline or Script: Start by writing a quick outline or detailed script for your video. Outlines work great if you're creating a one-off video and you'll be narrating while you record your screencast. However, if you plan on editing a polished video, we recommend recording your audio and video separately. In this case, it's a good idea to write a detailed script so you know exactly what to say next. In either case, using an outline or a script means that you won't have to worry about going off on a tangent or leaving out an important piece of information.
Choose a Recording Location: Find a place to record that is as quiet as possible where you're not likely to be interrupted. Remember, good audio is the foundation of a good video.
Clean Your Desktop: Before you record, take a minute to clean up your desktop. Close any personal windows, quit any programs with popups (like instant messaging or your email), make your desktop background visually neutral, and move your icons off your desktop. An easy way to do this is to make a temporary folder for storing your icons while you record.
Prep Your Materials: Open any documents, PowerPoint presentations, programs, websites, and other digital materials you want to show your viewers.
Practice: Do a practice run-through with your outline or script. The goal here is to check that your video flows well and make edits as needed.
One-Off Videos
Make sure you have Snagit installed on your computer. If you don't, you can try Snagit free.
When you're ready to begin, click the Video Capture Mode button, then click the Capture button. 

Next, select the area you want to record. To do a full screen capture, move your cursor so that the entire screen is highlighted and click your mouse.

If you don't want to do a full screen recording, click and drag your cursor to select a specific region. If you get confused when selecting a region, check out the help window in either the bottom left or top right corner of your screen. If the window isn't visible, press H to toggle the help window on and off.

Now that you've selected the area you want to record, make sure your audio is ready to go. To check your audio levels, speak into your microphone like you're doing your recording. If there's green activity in the audio meter, you're good to go. If there's no activity, or if any of the activity is red, you need to either change your input source or check your input volume. To change your audio input, choose a new input source from the dropdown menu to the right of the audio meter.

You're ready to record. Click the record button to start a three-second countdown. Then, follow your outline as you record your video. Click the stop button to end your recording when you're finished.

Preview your video in the Snagit Editor. Check to make sure you covered the important points, but don't worry about any little mistakes. If you're happy with your video, skip down to Sharing Your Videos. 
Polished Videos
Make sure you have Camtasia for Mac installed on your computer. You can download a fully functional  trial here for free.
When you start Camtasia for Mac, the Recorder will open automatically. The first thing you'll do is select an area to record. By default, the full screen option is selected. If you need to select a different area for recording, choose the dropdown menu to the right of the Screen button. You can either select a custom area or choose from a number of preset options.

Audio recording is enabled by default. If your audio button is green and you see activity in the lower half of the audio meter, then you're ready to go. If you want to change your audio input, select the appropriate device from the dropdown menu beneath the audio meter.

When you're ready, click the red Record button. This will start a 3-second countdown. Once the countdown ends, everything on your screen and every sound picked up by your microphone will be recorded.

To end your recording, either use the keyboard shortcut Command-Option-2 or click on the Camtasia for Mac menu icon and choose stop recording.

This will open the Editor and automatically add your recording to the clip bin and timeline.

This is where the fun really begins. As the name suggests, the Editor allows you to edit and polish your videos. To fully maximize your editing experience, check out our tutorials in the tutorial viewer that pops up when the Editor first opens. Here you'll find detailed explanations of how to turn your videos into optimized learning experiences for your viewers.

Sharing Your Videos
At this point, you should be ready to save and share your video. Both Camtasia for Mac and Snagit give you a number of output options for your video, including Screencast.com. Posting your videos to Screencast.com is an easy way to store and share your videos.
Screencast.com is a great way to quickly share one-off videos via URL or host your polished videos on your own website via the provided Embed code.
If you're creating polished videos with Camtasia for Mac, learn how to share your Camtasia for Mac videos via Screencast.com.
If you're creating your videos in Snagit, learn how to share your Snagit videos via Screencast.com.
In either program, you'll be prompted to sign into an existing account or create a free Screencast.com account the first time you share a video to Screencast.com.
Tips and Tricks
In this tutorial, we've shown you how to create videos using Snagit on Mac and Camtasia for Mac. You can do the same things on a PC by using Snagit on Windows and Camtasia Studio. Try any of these products with one of our free trials. Determine which product best fits your needs.
The easiest way to set up a program with student interns is to create a role similar to an office aid, or allow students to sign up for an independent study – whichever works best for your school. If it's not feasible to have student technological interns, you can also encourage teachers to create videos to share throughout the school.
You can also use Snagit to create visually compelling written materials for professional development. Simply use Snagit to create and edit your images, and then add them to any written document (like the images you see throughout this tutorial). Adding images to your written documents helps readers visualize and better understand key pieces of information.
Disclaimer: These videos are not intended to replace any state mandated professional development programs that may apply to your school. Instead, the goal should be to give teachers more opportunities to learn about programs, software, websites, etc. that can enhance their teaching as they need it.