Engage Students With Personalized Feedback
It can be difficult to convey everything you want to say to your students when you're restricted to the margins of a printed page. Give your students personalized feedback in your own voice by recording a quick video, and save time doing it!
Try It!
Make sure you have Snagit installed on your computer. If you don't, you can try Snagit for free. We're using Snagit on Windows for this tutorial, but you can do the same thing on a Mac.
Close any personal windows and exit any programs with pop-ups…just in case.
Open a piece of student work and resize the window so that it's smaller than full screen. Snagit can capture the full screen, but this often results in a really large file size and provides a less-than-ideal viewing experience for your students.
When you're ready to begin, open up the Snagit Capture Window, click on the Video tab, and set up your recording options. You'll want to make sure "Record Microphone" is On.

Select the area containing the student's work. (Hint: When you move the crosshairs over any part of an open window (such as a Word document), this window is highlighted and the rest of your desktop is dimmed.)

When you're ready to start your lesson, click the video camera record button. This will start a three-second countdown, and then Snagit will start recording. Once the video starts, you can start giving your feedback. Make comments just as if you were talking to your students in person. Point out areas you're discussing with your mouse; Snagit records everything you do on the screen.

When you're done, stop the recording.

Now that you've recorded your feedback, it's time to share it. The easiest and most user-friendly way to share your feedback is to upload the content to Screencast.com. (If you don't have a free Screencast.com account, you'll be prompted to create one during Snagit's installation process.)

You'll want to store your videos where your students can easily access them. You can create different folders and playlists on Screencast.com for each topic area that make it easy for your students to find a specific video. You can also set your privacy levels to determine who can access your videos. Before you upload your first video, take a minute to adjust your upload settings by first expanding your Screencast.com drop down menu, and then choosing options.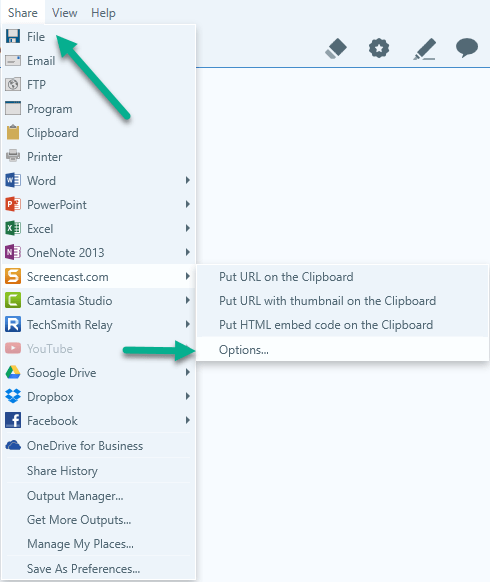 Adjust the settings as desired. In particular, you'll want to (1) create a new folder for your videos with a descriptive name, (2) select that folder to store your videos, and (3) make sure that you are prompted to name your file before uploading. If you establish an easy-to-remember naming and storage convention (for example, you could use a prefix indicating the assignment followed by the student's first initial and last name: "Assignment1_JSmith.") to keep track of your videos before you get started, you'll save yourself a lot of time later when it comes to maintenance.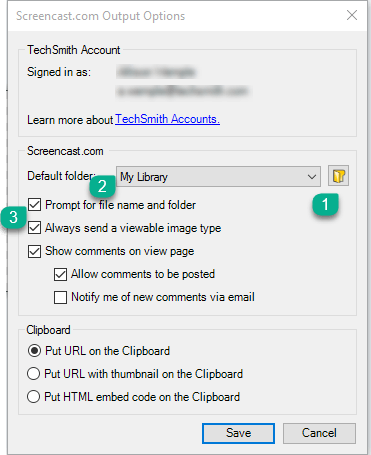 When you're ready to share your video, click the Screencast.com button. Snagit will upload your video and automatically add the link for your video to your clipboard.

Tips and Tricks
We're using Snagit to record feedback, but you can also use Camtasia for Mac or Camtasia Studio. Determine which product best fits your needs.
If your students' work is printed on hard copy (or if it's a 3D project), you can use TechSmith Fuse to record your feedback and then send it directly to your computer for sharing.
While you narrate, it's a good idea to draw visual attention to the part of the work you're talking about. This helps your student know where to look. One way to do this is to gesture with your mouse as you narrate your feedback. Depending on the software you're using to display your student's work, you may also be able to use some kind of drawing or highlighting tool. If you have a tablet PC, you can draw on the screen freehand.