Create Video Notes With Your Interactive Whiteboard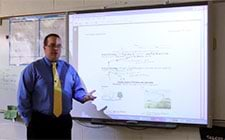 Mike Conrad, (a high school math teacher in Parma, MI), enjoys using his interactive whiteboard to enhance his lessons. Unfortunately, he found that once the lessons were finished, all he could do to preserve what he'd taught was to save his notes as a PDF document. Making the PDF document available was somewhat helpful for students, but unfortunately it didn't show the process - it just showed the end result.
Now, Mike uses Camtasia Studio along with his interactive whiteboard to record his lessons as video notes. His students watch the video notes to study for quizzes and tests, catch up when they've been absent, or review lessons as many times as they need to fully understand the concepts. Watch Mike's story.
Try It!
Is your interactive whiteboard collecting dust? Use Camtasia Studio to record your lessons as video notes and make your teaching available outside the classroom walls anytime, anywhere. Recording your interactive whiteboard with Camtasia Studio works the same way that it does on your desktop computer or laptop. Here's how to do it!
Note: In this tutorial, we show you how to use Camtasia Studio to record video notes just like Mike's, but you can also get the same results with Camtasia for Mac. If you don't want to edit your videos, you can also use Snagit. Compare these products and see what's best for you.
Before Class
Make sure you have Camtasia Studio installed on your computer. If you don't, download a fully functional trial for free.

Set up your computer like you normally would for class by cleaning off your desktop and opening any digital materials you plan to use for your lesson, such as notes, PowerPoint presentations, or websites.

Open Camtasia Studio. When you first launch Camtasia Studio, it opens the Editor. Locate and click the Record the Screen button near the top-left corner of the Editor.

Next, choose an area to record. The full screen option is selected by default, and will probably be the best option for your video notes.

However, if you need to, you can also select a custom recording area. To do this, either click the Custom button and then click and drag to select the area you want to record, choose a preset option from the drop-down list next to the Custom button, or type in your own dimensions.

The next step is to check your audio input. To verify that audio recording is enabled, check to see that your Audio button has a green checkmark.

Confirm that you're using the correct audio input by selecting your preferred device from the dropdown menu next to the Audio button. From this menu, you can also confirm that the Record system audio option is checked if you want to record the sounds that come out of your speakers.

Once you have the appropriate audio input selected, check your sound levels by speaking into your microphone at a normal level and adjusting the volume as needed. If the activity meter is green, you're at a good spot. If it's orange or red, you'll want to lower the volume.
During Class
When you're ready to start your lesson, click the red Record button. This will minimize the Recorder to your taskbar and start a 3-second countdown. Once the countdown ends, everything on your screen and every sound picked up by your microphone will be recorded.

Proceed through your lesson as you normally would.

When you're finished, end the recording by either pressing the F10 key on your keyboard or clicking the Stop button in the Recorder.

Finally, save your recording. If you're ready to edit your video, click Save and Edit to save your recording and open it in the Camtasia Studio Editor. If you're not ready to edit your video, click the arrow beneath the Save and Edit button and choose Save As. Save your recording in a location where you can easily find it later. Once your recording is saved, you can either start another recording or close Camtasia Studio.
After Class - Edit, Produce, and Share
In this section, we'll provide a brief introduction to a few of the editing options available in Camtasia Studio that you may find particularly useful. However, Camtasia Studio offers a full array of editing features that we cannot fully cover here. We recommend that you check out our video tutorials if you would like to go deeper and learn more. Note that you can make as few or as many edits as you would like, it's entirely up to you.
Creating a New Project
If you clicked the Save and Edit button in the previous step, Camtasia Studio will automatically create a new project and add your recording to the timeline. If you chose to save your recording and come back later, double click on your recording file to start up Camtasia Studio, create a new project, and add your recording to the timeline.
Editing Dimensions
When you start a new project, you'll be asked what size you want your video to be. You'll usually end up with the best quality results if your editing and production dimensions are the same, so make sure you choose the dimensions here that you'll use when you produce your video. The two Automatic suggestions in the dropdown menu are usually safe bets.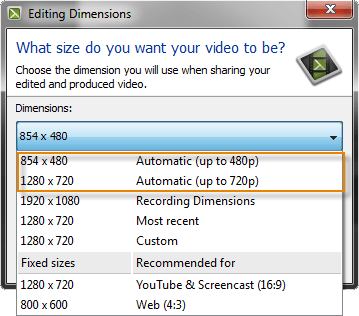 Cutting Unwanted Media
You may find that there's unnecessary material in your recording that you want to cut out. For example, you may have given students a few minutes to work through a problem that you don't need to keep in the video. Or, it may have taken you a few minutes to start the lesson after you hit record. To remove any portions of the video, click and drag the playhead,

select the area to remove,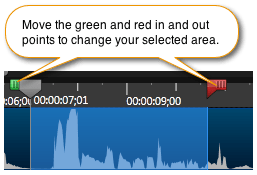 and click Cut (you'll find Cut in the row of buttons directly above your timeline).

(Hint: you may need to zoom in on the timeline for a more precise cut. Do this using the zoom in/out bar above your timeline.)

Markers
If you've made a long recording covering multiple topics, you can use Markers to create a table of contents for your video. This is a great way to help your students navigate quickly to the information they need. When you're editing, add a marker at the beginning of each new topic by moving your playhead to the appropriate location on the timeline and pressing M. Then, type in a title that clearly indicates the topic of that section. When you produce your video using the instructions below, students will be able to see these titles in a table of contents and click on them to jump to that particular part of the video.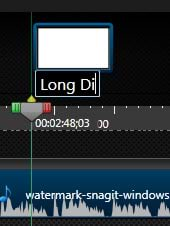 Saving
While you're editing, save your project regularly so you don't lose any changes. You can do this either by opening the File menu and selecting Save Project or by using the keyboard shortcut Ctrl + S.
Produce and Share
When you're ready to share your video, click File > Produce and share.

Camtasia Studio offers many options for producing and sharing your video. Posting your video to Screencast.com is an easy way to share your video notes with students. When you open the Production Wizard, choose the Share to Screencast.com option from the drop-down menu. Then click Next.

Login to your free Screencast.com account. If you don't have a Screencast.com account, click on the "Sign up for a free Screencast.com account!" link to create your free account. Check the Remember me option to store your information for future videos. When finished, click Next.

Name your video, select a folder to store it in, and adjust any other options you want. Then click Finish to upload your video.

The amount of time it takes to produce and upload your video varies depending on the size of your video. When your video is done uploading, you have the option to copy either the Video URL or the Embed code. All you need to do is copy the link and share it with your students.
Tips and Tricks
Mike uses Camtasia Studio to make his video notes, but you can achieve identical results with Camtasia for Mac. If you don't plan on editing your videos, you can also use Snagit on either PC or Mac. Compare these products and see what's best for you.

Use Camtasia Studio to pre-record a lesson starter or instructions to play at the beginning of class. As the video plays, you can circulate around the room helping individual students.

If your school uses an LMS such as Moodle, or if you have a class blog or website that your students can access, you can use the Screencast.com HTML embed code to embed your videos on your existing site.