Meet Students' Individual Learning Needs
Scenario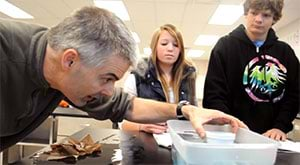 Jonathan Bergmann is passionate about using differentiated instruction to appropriately challenge each of his students. Teaching through traditional lectures wasn't allowing him to meet this goal, so Jonathan flipped his classroom and went to a mastery model of teaching. Today, Jonathan records instructional videos and makes them available via YouTube. Students watch these videos before class, so class time is filled with one-on-one conferences, small-group discussions, and activities – instead of lectures. This allows Jonathan's students to use many learning methods to explore and master the content.
Jonathan uses screencasting to ditch the lectures and challenge his rocket scientists, his struggling students, and everyone in between. Learn more about Jonathan's story.
Try It!
Do you ever wish that you could challenge all of your students to achieve mastery instead of having to shoot for the middle? You can use Camtasia Studio to create videos just like Jonathan's. Here's how!
Prep Work
Make sure you have Camtasia installed on your computer. You can download a fully functional trial here for free.
It's a good idea to write a script for your video before you record. Taking the time to a write script will help take the stress out of recording. You'll know exactly what to say next, and you won't have to worry about going off on a tangent or leaving out an important piece of information. Here's an example.

You can download a full sample script that you can adapt for your own purposes here, but you can set up your script in any way that works for you.
Before you get started, take a minute to clean up your computer. Close any personal windows, quit any programs with popups (like instant messaging or your email), change your desktop background to something that isn't personal or visually distracting, and move your icons off your desktop. An easy way to do this is to make a temporary folder for storing your icons while you record.
Once your desktop is ready to go, open up any documents, websites, or other digital materials you want to display.
Do a practice run-through with your script. This will allow you to check that your video flows well and make any edits you need.
Recording
Find a place to record that is as quiet as possible where you're not likely to be interrupted. Try to avoid a location with a lot of ambient noise like fans or passing cars. Starting with quality audio will make it a lot easier for you when it comes time to edit your video. If you plan to record from your webcam, do an additional check of your physical surroundings and remove anything that is visually distracting.
Open Camtasia Studio 8. When you first launch Camtasia Studio, it opens into the editor. Locate and click the Record the Screen button near the top-left corner of the editor.

The first thing you'll do is select an area to record. By default, the full screen option is selected. Unless you plan on sharing your video to a location that requires specific dimensions for the size of your video, we recommend that you record your full screen for this video.


If you need to select a different area for recording, you can either click the Custom button and then select the area you want to record, or you can select a preset option from the drop-down list next to the Custom button.

Audio recording is enabled by default. To verify that your audio is ready to go, check to see that your Audio button has a green checkmark.


If you want to change your Audio input, select the appropriate device from the dropdown menu next to the Audio button. You can also uncheck the Record system audio option in this dropdown menu if you don't want Camtasia to record the sounds that would normally come out of your speakers.


Check your sound levels by speaking into your microphone and adjusting the volume as needed.

Webcam recording is disabled by default. If you want to record your webcam as part of your video, click the Webcam button to enable webcam recording. When you've turned this on, you should see a preview of your webcam. You can move your cursor over this preview window to get a larger view.

When you're ready, click the red Record button. This will start a 3-second countdown. Once the countdown ends, everything on your screen and every sound picked up by your microphone will be recorded.

The easiest way to end your recording when you're done is to press the F10 key, but you can also stop the recording from your taskbar.
Click Save and Edit to save your recording and open it in the Camtasia Studio editor.
Edit
When the Camtasia Studio editor opens, your video will automatically be added to your timeline. Before you start editing, you will be asked what size you want your video to be. You'll usually end up with the best quality results if your editing and production dimensions are the same, so make sure you choose the dimensions here that you'll use when you produce your video. The two Automatic suggestions in the dropdown menu are usually safe bets.

No matter how careful you are when recording your screencasts, there will probably be times when you'll need to cut out a section where you made a mistake. To remove any portions of the video, click and drag the playhead,


select the area to remove,


and click Cut (you'll find Cut in the row of buttons directly above your timeline).

(Hint: you may need to zoom in to make sure you get the correct area. You can accomplish this using the zoom in/out bar above your timeline.)

While you're editing, be sure to save your project regularly so you don't lose any changes. You can do this either by opening the File menu and selecting Save Project or by using the keyboard shortcut Ctrl + S.
Produce
When you're ready to share your video, click File > Produce and share.
Camtasia Studio offers many options for producing and sharing your video. For example, Jonathan shares his videos via YouTube. Posting your video to Screencast.com is another easy way to share your video with students. When you open the Production Wizard, choose the Share to Screencast.com option if it's not already selected. Click Next when you're ready to move onto the next screen.

Here you'll login to your free Screencast.com account. If you don't have a Screencast.com account, click on the Sign up for a free Screencast.com account link to create your free account. If you check the box next to Remember me you'll only have to log in once. When you're finished, click Next.

Name your video, select a folder to store it in, and adjust any other options you want. Then click Finish to upload your video.
The amount of time it takes to produce your video will vary quite a bit depending on the size of your video. When your video is done uploading, you'll have the option to copy either the Video URL or Embed code. All you need to do is copy the link and share it with your students.
Tips and Tricks
Jonathan uses Camtasia Studio to make his videos, but you can achieve identical results with Camtasia for Mac. If you're not concerned about incorporating a webcam or editing your videos, you can also use Snagit. Compare these products and see what's best for you.
If you make a big mistake early in your recording, press F10 to stop the recording and start over. If you're a long way into your recording, don't start all the way over from the beginning. Instead, just stop speaking for 3 seconds while the Recorder keeps recording and then resume from the beginning of that section. Those three seconds of silence will make it easier for you to find the mistake and cut it from the recording. Your students may know you made a cut, but that's OK. Remember, you don't have to be perfect to make a great learning tool.
Camtasia Studio has a lot of great editing features to help make your videos even better learning tools for your students. For example, you can add visual callouts to point out something you forgot to mention or reinforce key points. If you're interested in learning about these features, check out the Camtasia Studio tutorials listed below.
For more help with this activity, check out these suggested tutorials: