Mizzou Builds Award-Winning Website With the Help of Morae
Background
The Information Experience Laboratory (IE Lab) at the University of Missouri-Columbia (MU) is a usability research and testing facility designed to foster, support, and advance research, development, and teaching. Based at MU's School of Information Science and Learning Technologies (SISLT), the lab is primarily used by faculty and students associated with SISLT, but is also used to assist various campus-wide departments with various usability testing projects.
User Experience Challenge
For the first year the lab was in existence, the team was using whatever equipment it could afford. This hodgepodge of tools captured analog video and audio that later had to be synchronized using mixers that resulted in poor visual quality. And beyond manually taking notes, they didn't have an efficient and accurate way to track detailed system and interaction data during usability sessions. The equipment was complicated and cumbersome to use, making it next to impossible to show clients -- e.g., administrative staff, doctoral students, and research departments -- how user experience testing could benefit them.
The IE Lab needed an affordable, modern solution, and since the lab would also be used by students with varying degrees of technical know-how, the solution would have to be easy to use.
Solution
In 2004, the IE Lab purchased Morae by TechSmith. MU found Morae to be the ideal way to integrate usability testing into the IE Lab and into their design and development processes for websites, software applications and grant-based research projects. Morae is the industry's first all-digital, user-experience testing software. It is designed to replace the disconnected hardware pieces that make up a traditional usability lab. The IE Lab team found that Morae integrated easily with their testing environments, and that Morae is easy to learn and extremely capable and flexible when it comes to capturing the user experience during testing. Perhaps just as important, it is a compelling tool with which to capture the attention of clients during lab walkthroughs.
Once the team installs Morae on its test machine, it records real-world actions, such as user speech and facial expressions, along with detailed application and computer system data. Morae then indexes the data and makes it searchable so the team can easily calculate factors such as page changes, time-on-task, and any other number of intensive measurements, or just be able to quickly find a specific point in the video – something that is very time-intensive when working with analog video tapes. And because it's a software-based solution, it's easy to conduct testing in a lab, conference room, an office, or loaded on a laptop and taken on the road, giving testers greater flexibility and the option to test in natural settings.
For MU, as for many Morae customers, a critical selling point is the product's highlight video capabilities. With Morae highlight videos, decision makers are able to see, hear, and experience the Website or software application just as a customer, colleague or student would. Instead of creating extensive text reports, that all too often go unread, Morae enables the IE Lab team to quickly create highlight videos that can be burned to CD or DVD, or placed on a network for anyone to watch. Armed with this video information, the IE Lab team is now able to present the facts in an undisputable and objective format, without having to worry about issues that may once have been seen as simply differences of opinion.
New Online Admissions Website Bolsters Recruiting Efforts
Shortly after having Morae installed in the IE Lab, MU began building a new undergraduate admissions Website with the goal of providing prospective students, transfer students, international students, and parents a glimpse into the Mizzou experience. In a 2006 report by the Pew Internet & American Life Project, an increase of over 40 percent, accounting for some 17 million people said the Internet played a major role in helping them decide on a college or school for themselves or their children. Internal university research also supported these finding.
To help redevelop its undergraduate admissions web presence, MU hired MStoner LLC who has extensive experience in the higher education market. The firm created a strategy for the site relaunch, developed over 150 pages of content for the new site, designed a suite of user interface templates, developed HTML templates, and migrated content and images into the new template system. The new admissions site would be a break from the traditional static template that seems to define most university websites.
Goals established during the planning stages for the new site included:
Increase yield in all groups.
Increase student applications (in-state and out-of-state—especially from two specific geographic regions).
Increase diversity, including international students.
Maintain or increase student ability measures.
Increase applications from low socio-economic students.
Relevant to these goals, there were also a number of strategies identified:
Drive prospective undergraduates to visit the campus.
Increase and improve communication with parents.
Address new sources of competition, especially from regional campuses.
A series of gateways were also created that would allow parents, international students, and transfer students to find contact information that would help facilitate more direct conversation with the appropriate university staff.
The new undergraduate admissions website would be light, yet graphics-rich, and it would stress the college experience while being consistent with MU's new recruitment theme: Mizzou Means More. MStoner and MU's Web Communications team partnered with MU's IE Lab to conduct usability tests on the beta-site.
Beta-Stage Usability Testing with Morae
The IE Lab team had five students and five parents perform a series of tasks to test the usability of the new admissions Website overall and in the specific areas listed below. Tasks included:
Find your major on the MU Admissions Website.
Find the tour times for visiting the MU campus.
Find information on applying.
Find deadlines information.
Find contact information for the admissions office.
Find out the cost of tuition and student housing at MU.
Find the online application.
Find information about campus activities and organizations.
As students and parents performed the tasks, Morae was running on the test computer, capturing all the on-screen action. In the observation room, IE Lab staff, designers, consultants, and members of the Web Communications team observed the testing using Morae Observer, which gave them a real-time view of exactly how the students and parents interacted with the Website. During the beta-stage usability tests, more than a dozen usability issues were identified.
For example, from these tests, it became apparent that students and parents had difficulty finding information due to the use of space and color. When parents were asked to find information that applied specifically to them, they had trouble finding where to click even though a "parents" tab was on the admissions home page. To remedy this, the tabs were highlighted in red text:

When students were asked to find deadline information, they overlooked text that was directly below photos because they thought it was a caption. The design team corrected this by adding an obvious white space separation with a border.
Naturally, cost was a very important feature for parents. Not only did they want to know the total cost, but they wanted to see a clear breakdown of the information. The team added a chart to make it easy for parents to see both in-state and out-of-state tuition.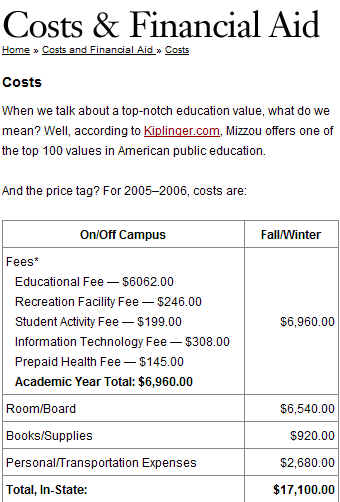 Results
Although the total effect of the new admissions site is still unfolding, the team is seeing strong trends that indicate specific areas of success. For example, prior to launching the new Web site, approximately 40 percent of applications were received online and 60 percent were traditional paper applications. Following the launch of the site, 68 percent of applications are received online and paper applications have fallen to 32 percent.
In addition, the admissions department is seeing a broader geographic diversity in applications, including many from locations not targeted by the print recruitment materials. There has been an increase of 70 percent in applications from California alone.
By adding the new online "Meet Your Admissions Rep" section, students and parents are able to put a face and a name with their admissions representative, providing faster, more informative, and more personalized service. And instead of calling a general contact number, students are able to email their representative directly.
By using Morae the team was able to quickly integrate the necessary changes from the beta usability testing into the final build which helped to launch the site on-time and within budget. The undergraduate online admissions Web site has received rave reviews from staff, administrators, and most importantly, the recruiting department. The site also received an award from the Council for the Advancement and Support of Education.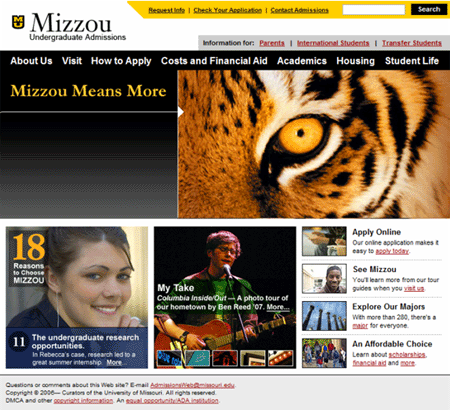 To date, the IE Lab has conducted seven in-depth user experience projects with Morae and has six more projects in the planning stages, including a total redesign of the university website. When clients take a tour of the IE Lab today, the team runs them through a live 30-minute usability test with Morae so they can experience its capabilities and benefits first-hand. In fact, most tours last closer to an hour because once clients understand the flexibility Morae offers and incredible information it collects, they begin to expand their projects.
The IE Lab has been an enormous success, and demand for its resources is growing quickly, so much so the IE Lab team is creating a service-provisioning model so it becomes self-sustaining. Not only does this reflect the value of the IE Lab on campus, but the fees generated will benefit students by helping them pay for conferences, training, additional technology, pursue publishing opportunities, and conduct more specialized research in their individual field giving them invaluable real-world, hands-on experience. And because the IE Lab now has its own full-service usability lab, it can apply and respond to research grants that stipulate a user experience component which will greatly increase its chances of receiving more grant funding.
About the University of Missouri-Columbia (Mizzou)
The University of Missouri-Columbia was founded in 1839 as the first public university west of the Mississippi River, and the first public university in Thomas Jefferson's Louisiana Purchase territory. For more information visit: www.missouri.edu