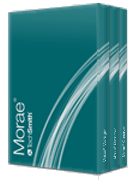 Buy Morae
A license of Morae comes with three components, the Morae Manager, Morae Recorder, and Morae Observer. You can install the Morae Recorder and Morae Observer components on as many computers within your organization as you need to for a particular study, but the Morae Manager can only be installed on one user's machine.
Need more time during your trial?
We offer a 30-day trial extension for $199. Should you decide to purchase Morae within 90 days of your trial extension, the $199 is subtracted from your purchase price! To request your extension, please contact us.
Get started now!
Buy Morae Now through our online store for just $1,995
Discounts
Discounts are available for qualifying governmental, non-profit, and educational institutions.
How should I set up Morae on my PCs?
Morae is incredibly flexible in terms of how you deploy the different components. Below are some of the ways that our customers set up their studies.
Installation Option 1
This is the typical setup.
Computer A: Morae Recorder & Morae Manager
Computer B: Morae Observer
Installation Option 2
Use this setup when the person who does the live logging will also do the analysis later.
Computer A: Morae Recorder
Computer B: Morae Observer & Morae Manager
Installation Option 3
This setup can be used most flexibly, but recordings must be copied and sent from Computer A to Computer C.
Computer A: Morae Recorder
Computer B: Morae Observer
Computer C: Morae Manager
Remember, you can have multiple copies of Morae Observer and Morae Recorder installed on multiple machines at the same time. The only difference would be that you would need to collect the Morae Recorder files from each of the machines and copy them to the Morae Manager machine for analysis.