How It's Used
Use Morae to gain valuable insight about your product and remove the guesswork from your decisions. You'll love that you can record user interactions, analyze the results, and instantly share them with anyone – all within Morae and for any type of research.
 
---
Software & Web User Experience Testing
Morae provides you with hard data and vivid, undeniable examples of usability problems. It also automatically calculates and graphs effectiveness, efficiency, and satisfaction – saving you time on analysis and reporting.
Stakeholders can observe research sessions live from anywhere via a network. Your notes and theirs are indexed to the video, making it easy to analyze the data later. Find all comments on the same task across all your recordings, instantly. Drag charts and tables into your report and export video clips directly to your presentation.
Here's How:
See the Morae Setup for Software and Usability Tests: Download the PDF
---
Focus Groups & In-depth Interviews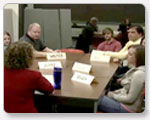 Whether you gather customers around a formal conference table or sit down for a one-on-one, bring Morae along to capture the interaction, and share the results quickly.
Type notes and flag important moments as Morae records video. Team members and stakeholders can watch the live video stream and log their own observations. Everything is captured digitally on your hard drive, so all your data can be found in one place.
As soon as your research session is over, quickly search back through the notes and markers, select the best clips, and export the highlight reel directly to your free Screencast.com account for anyone to view.
Here's How:
See the Morae Setup for Focus Groups: Download the PDF
---
Mobile Device & Hardware Testing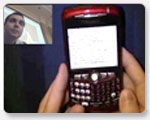 Regardless if it's a mobile phone, GPS unit, or an espresso machine, you can improve the design of your product by testing it in the hands of real customers.
Watch customers manipulate physical buttons and navigate on-screen menus. Capture their body language, verbal comments, and success rates while observers flag important moments by selecting a preset marker. Next, use Morae's complete toolset to analyze, present, and share data quickly.
Here's How:
See the Morae Setup for Mobile Device and Hardware Testing: Download the PDF.
---
Paper Prototype Testing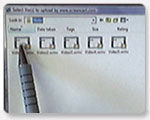 With Morae you can mock up a design, put it in front of customers, and test their reactions in record time. Morae helps observers give structured, detailed feedback that is automatically synchronized and placed at the right moment on the video timeline. Morae's streamlined logging process results in more detailed, instantly searchable notes – saving you hours of time during review and analysis.
Here's How:
See the Morae Setup for Paper Prototype Testing: Download the PDF
---
Pluggable Architecture
Write your own Recorder, Observer, and Manager plug-ins with Morae's pluggable architecture, which enables you and your development team to build features specific to your testing environment.
Learn more about the expanding flexibility of Morae's pluggable architecture and about the plug-ins that partnering companies have already created on Morae's Plug-ins Page.
---

Field Studies
Gain a richer understanding of what customers need by observing them in their natural environment. Send Morae into the field on a laptop, or record on the customer's own computer. Discover how customers respond to your product, which features they use, and what should be improved.
Here's How:
See How a Health System Took Morae on the Road with Field Studies: Intermountain Health System
---
Continuous Improvement (Lean Six Sigma)
Whether you're looking to improve the efficiency of line workers making widgets or office workers answering e-mails, Morae can help. TechSmith partner The Guthrie Group (TGG) is a pioneer in using Morae with Lean Six Sigma – a methodology for reducing process variation and waste, while delighting customers with a fantastic product or service.
Use Morae to collect, log, analyze, and present data – producing better, more reliable results faster than stopwatch, paper, and videotape-based methods. TGG's approach combines team-based consensus building with a powerful Morae plug-in to reveal opportunities, gather meaningful metrics, and map processes of PC-based applications.
Here's How:
See How to Use Morae with Lean Six Sigma: Visit The Guthrie Group.