Simple, powerful screen capture
and screen recorder software
Create images and videos to clearly get your point across. Spend less time trying to explain things and more time on the work that matters.
Capture your screen and communicate more effectively
Snagit® gives you a simple way to create and edit screenshots or record videos to show a complex process, give detailed feedback, or share important information with the people who need it most.
Capture your PC and Mac
Take a screenshot or record a video of what you see on your computer screen. Record Skype calls or Google Hangouts with audio so you can watch and review later.
Enhance screenshots
Snagit is way more than just a snipping tool. Customize and edit every screenshot with professional-quality markup tools. Trim any part of your recordings. Or convert videos to an animated GIF.
Deliver results
Show others rather than struggle to explain your ideas. Screen recording helps you deliver key information. Capture a website, record an online meeting, or send someone feedback in an email.
Quick screen capture and recording for your desktop
Snagit's image and video capture is powerful, but not complex. All-in-One Capture® grabs your entire desktop, a region, a window, or a scrolling screen. Grab any webpage or application—all with a single hotkey or click.

Image capture. Make sure to capture exactly what you need. Click and drag anywhere on your screen to select a region with pixel perfect accuracy.

Video capture. Sometimes it's easier to talk things through. Record, narrate, and trim quick videos of your screen for demos, feedback, reviews, and more.

Mobile capture. Capture beyond your desktop. Get TechSmith Fuse for your Android or iOS phone. Send photos and videos from your mobile device straight to the Snagit editor.
Panoramic capture
Capture wide, horizontal scrolls, infinitely scrolling webpages, and everything between. Take one, precise screenshot instead of stitching individual captures together.
Scrolling capture
Take a full-page screenshot even if it's not showing on the screen. Grab the horizontal, vertical, or entire scrolling area with just a click.
Create Animated GIF
Turn any short screen recording into an animated GIF. Show off quick tasks and workflows without a large file size.
THE BEST SCREEN CAPTURE SOFTWARE
How to take a screenshot

The Image tab allows you to customize the capture.
Step 1. In the Capture window, select the Image tab.
Step 2. Choose an option from the Selection dropdown.
Step 3. Add an effect, select a share destination, or customize the other capture options on the Image tab.
Step 4. Click the Capture button or press Print Screen.
Turn plain screenshots into clear, concise communication
Comment over screenshots using text boxes. Point out your ideas with arrows and shapes. Or simply highlight key areas. And Snagit's toolbar is completely customizable. All your favorite tools stay front and center.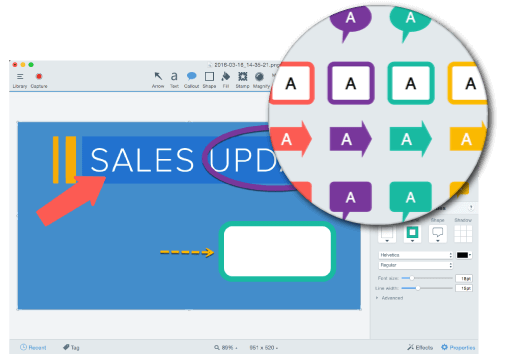 Background Auto-Fill and Magic Wand Tool. Move objects or remove the image background without affecting the original image quality. Perfect for fast image edits in documentation, website mockups, and more.

Add callouts, shapes, and text. Add personality and professionalism to your screenshots with a variety of pre-made styles. Or you can create your own.

Resize images. Get your images to the correct size, right down to the pixel. Use the Resize option to enter new dimensions to scale the size of the image.
Personalize your images with stickers specifically designed for screenshots. Get the latest stamps straight from Snagit, or download previous stamps here.
Quickly document steps and workflows with a series of numbers or letters.
Find all of your past captures without wasting time digging for them. Your screen captures are automatically saved to your library, with the most recent captures viewable all the time. Tag captures to always keep your projects organized.
Zoom in to show people exactly what you're seeing. Customize the outline color, zoom power, and size of your magnification.
Call attention or highlight an item in your screen grab.
Add captions, headings, or other text to an image.
Draw attention to something important on your screenshot. A callout includes an annotation plus text.
The Crop tool removes unwanted areas from the edges of an image.
Highlight specific parts of an image to show important details.
Flood-fill a flattened area in an image with another color.
Delete a vertical or horizontal section out of an image and join the two pieces together.
Draw freehand lines on an image.
Easily highlight, cover, or even add parts to an image so you can clearly communicate your ideas.
Add effects like border, shadow, and torn edges to your entire screen capture.
Hide or mask sensitive information in an image.
Add a straight or curved line to an image.
Capture videos with a simple, intuitive screen recorder
Context is everything. Record video of your desktop for simple how-tos, tutorials, or video instructions. Our screen recorder is the best you'll find. With Snagit, there's no waiting. You can record your video, and share it within seconds.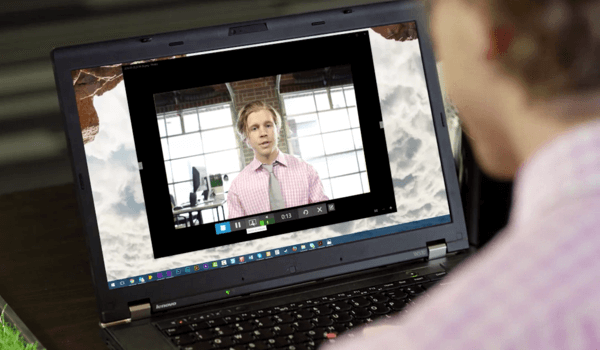 Webcam recording. Toggle between webcam and screen recording during a video. Add a personal touch with teammates or clients, no matter where they are.

Video trimming. Quickly get rid of any unwanted sections from your screen recordings. Remove ums, ahs, coughs, extra time from the beginning, middle, end, or any mistakes you want to correct.

Record audio. Include audio in your videos from either a microphone or your computer's system audio.
THE BEST SCREEN RECORDING SOFTWARE
How to record your screen
Step 1: In the Capture window, select the All-in-One tab.
Step 2: Click the Capture button or press Print Screen.
Step 3: Click and drag to select the area to record on the screen or click the Fullscreen button.

Step 4: Edit the selected area if needed.
Step 5: Click the Video Capture button.
Step 6: The Video Recording toolbar appears.
The options on the toolbar can be toggled on or off during recording:
Webcam: Record live video of the connected or built-in webcam.
System Audio: Record the sound from your computer such as application alerts, music, etc.
Microphone Audio: Record the audio from your computer's built-in or USB microphone.
Step 7: Click the Record button or press Shift+F9.
Step 8: Click the Stop button or press Shift+F10.
The capture opens in Snagit Editor where you can preview, trim, and share the recording.


"Snagit makes it easy for us to empower colleagues across the company
to share their personal knowledge with others."
Casson McRae -

Get Snagit today
Compatible with the Windows® 10 operating system
Try it free for 15 days and explore all of Snagit's features, no credit card required.
Buy both Snagit Version 13 (Windows) and Version 4 (Mac) on one license, without any annual fees or subscriptions.
| | | |
| --- | --- | --- |
| Qty. | | Price each |
| 5-9 | | $39.46 |
| 10-24 | | $34.96 |
| 25-99 | | $29.97 |
| 100-249 | | $24.97 |
| 250+ | | Contact sales |