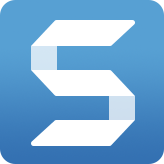 TechSmith Releases New Advanced Image Editing and Functionality in Snagit
Productivity software allows users a simple way of creating screenshots and videos to quickly illustrate what they see rather than struggle to explain it with text
OKEMOS, Mich. – January 24, 2017 – TechSmith Corp., the go-to organization for visual communications, today launched an updated version of Snagit, its screen capture and image editing tool featuring new innovations to cut down creation time and offer enhanced editing control. Snagit is available for Windows and Mac and allows users to combine traditional screenshots, videos and image editing to better share information and improve overall productivity.
Snagit's new features include:
Shared styles and themes: Define multiple sets of quick styles and share with other users within an organization to improve efficiency and ensure brand consistency.
Localized callouts: Extract text from callouts and text markup and put them into a format that is accessible to localization specialists for translation.
Magic wand and background auto-fill for advanced image editing: Smart tools for selecting objects and areas to remove, copy, cut or fill with another color or with the surrounding background.
Capture info: Automatically adds the application name and version number to an image so users can see when it was captured and on what operating system — especially useful for documenting software errors or bugs.
"Color visuals increase a person's willingness to read a piece of content by 80 percent. And, people following directions that include visuals do 323 percent better than those following text directions alone," TechSmith CEO Wendy Hamilton said. "Visual communication is crucial in today's workplace for both internal and external audiences. This newest version of Snagit provides anyone — even those with little or no experience creating or editing images — the power, flexibility and ease-of-use to work faster, create more engaging visual content and better share what can't be put into words."
Snagit's new features are especially helpful for those in the technical communications, software testing and marketing industries. For example, technical communicators need to create impactful visual content under budget and on time. In their day-to-day roles, they must ensure that content is easily reusable, simple to localize and visually consistent. Snagit helps create more efficient workflows by allowing visual content to be created for numerous audiences, in multiple languages, while still maintaining a consistent brand, look and feel.
As the need for easy-to-use tools rises for digital communicators in all industries, Snagit's new features enhance communication in the workplace by enabling the creation of impressive visuals and reducing wasted time, while allowing organizations to share critical information in a creative and more engaging way.
The newest version is available today as a free update to Snagit 13 for Windows or Snagit 4 for Mac. Users with versions older than Snagit 13 for Windows or Snagit 4 for Mac can download and buy the newest version for $24.95 for Windows or Mac. New users can download and buy for $49.95. Learn more at www.techsmith.com/screen-capture.html.
About TechSmith
Founded in 1987, TechSmith Corporation provides practical business and academic software products that can dramatically change how people communicate and collaborate. Its mission is to empower people to create remarkable videos and images that help share knowledge and information. TechSmith enables users to work more effectively wherever they may be and ensures that the process of creating, sharing and collaborating around content is simple and intuitive so that others can learn from their knowledge. Learn more at https://www.techsmith.com and follow @TechSmith on Twitter for the latest news.
MEDIA CONTACTS:
TechSmith PR Team
Phone: 248-304-1423
Email: techsmith@airfoilgroup.com or press@techsmith.com