Snagit Upgrade Policy
If you choose to upgrade your current version of Snagit to the newest installment, for example 13.0 to 2018, you have to pay for that upgrade. If you have a maintenance agreement, the upgrade is free.
There are also free updates that come with each new upgrade. If you currently have Snagit 2018 and it updates to 2018.1, that's a free change. The same goes for maintenance releases, so if it changes from 2018.1.0 to 2018.1.1, that's free, too, until your next upgrade.
With each Snagit purchase:
Your software key will unlock both Snagit on Windows and Snagit on Mac (Snagit is one product, with two platforms).
Any updates released for your initial purchased version are free. So if you purchase 2018 that means you get 2018.1, 2018.2, and any other updates free.
If you own an older release, you can buy the newest software release at a special upgrade price.
When downloading the latest version from our website, the software will check your software key to see if your version is eligible for the free update or special upgrade price. Check at any time by selecting "Check for Upgrade" from the help file pull-down menu.
You can only upgrade or update to the newest release available on our website.
How to find out which version of Snagit (Windows) you are on and whether you have a single-user or a multi-user license:
Start Snagit.
Select menu item Help > About Snagit.
A window pops up where you can find the "base purchased version", the software key for the Single-User Copy, and the current version of your copy.
Multi-users will find the current version number and the words "Multi-User License".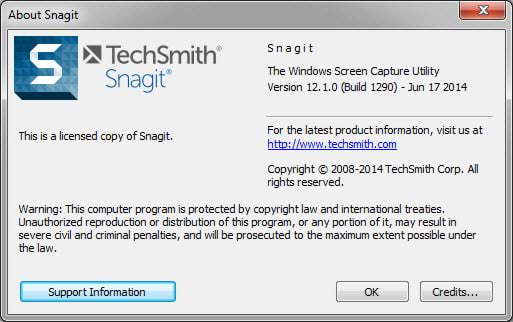 How to find out which version of Snagit (Mac) you are on:
Start Snagit.
Click Snagit > About Snagit.
In the About Snagit box, you should see your version type (highlighted below).