TechSmith Relay Self-Hosted Solution
With just three clicks, you can capture and share your knowledge. Record audio and on-screen activity during lectures, presentations, and meetings, and encode on your own server. Host content wherever you like, and share easily to places you know, including YouTube, Kaltura, your own website, and more.
Knowledge sharing, inside your firewall
Just press record
Record your own videos with just a few clicks. Make videos at work, home, or on-the-go. Create custom content or use videos and images you already have on your phone or computer to maximize your resources. You can even bring in files from Snagit and Camtasia.
Share easily
Share images and videos with just one person or  larger group, securely within your organization. Upload your existing files in batch, or one at a time. Send a link in an email, or output to YouTube, Kaltura, Ensemble, or your own website.
Watch and re-watch
TechSmith Relay integrates with popular hosting solutions, so you can make the most of your content. Access videos and images conveniently, on your favorite devices - PC, Mac, iPod, iPad, smartphone, Chromebooks, and more. Replay videos as much as you want, for effective training at your own pace and concept mastery in the classroom.
Mobile-friendly
Capture videos with your mobile device and bring them into TechSmith Relay (Self-Hosted). The TechSmith Fuse app lets you easily upload your content using your own network's wifi, for a seamless, cord-free experience. Plus, you can create and share content from your iPad with Knowmia Teach and Teach Pro by TechSmith.
Secure access
Since you encode and host videos on your own server, you always keep your content right where you need it. LDAP/Active Directory integration lets you synch profiles to login with confidence and ease, from anywhere in your organization.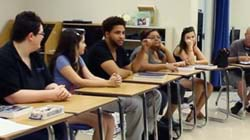 Improving communication on a virtual campus
"Instructors were ready for a video capturing solution for online students that would allow them more flexibility so online students could still have an effective learning community to grow and achieve, just as well as they would in a classroom," said Rich Senker, Director of Instructional Technology. "It was big to hear the excitement from students, and to know how the product is making their lives so much easier."
Resources for Self-Hosted TechSmith Relay

Free Tutorials
Whether you're just getting started or want to learn more, we've got tutorials for you.

Tech Support
If you need some help along the way, don't worry. We have free tech support available.

System Information
See if your organization has the hardware to install Self-Hosted TechSmith Relay.