What's New in TechSmith Relay (Self-Hosted)
The newest TechSmith Relay is better than ever, with support for images, uploading existing content, iPad creation, and deeper integration into your company's directory.

Upload images, too!
Now, you can upload images to TechSmith Relay and incorporate them into your workflow. Use Snagit or Fuse to capture new images, or select ones you already have.
Batch convenience
Get all your files into TechSmith Relay quickly and easily with the new batch upload functionality. Save time by choosing files straight from the Recorder, and upload them all at once.

Synched profiles
On the self-hosted version, TechSmith Relay also has deeper LDAP integration for better profile syncing and management. It can now pull more information from your company directory in order to sync profiles and publish destinations.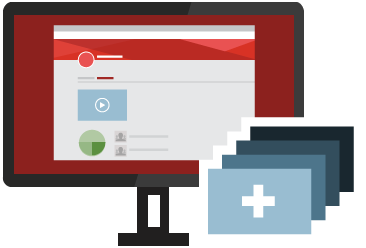 Make the move to hosted
If you have existing content, now is a great time to upgrade from self-hosted to our full-featured version of TechSmith Relay. With batch-upload, you can get all your important videos and images into TechSmith Relay's secure viewing environment. Since bandwidth and hosting is included, your TechSmith Relay instance will be easier to manage than ever.
We offer special upgrade pricing for Education, Government, and Nonprofit customers. Contact our sales team to learn more.