Jing Capture History
Jing remembers everything you capture on your computer and stores the images and videos as thumbnails in the History. Note that if you delete something from your History, Jing will also attempt to delete it from its stored location!
Click History.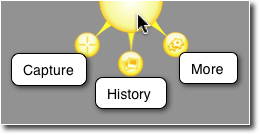 You can sort by Date (most recent captures at the top), and Size (largest files at the top). You can also sort within just images or videos.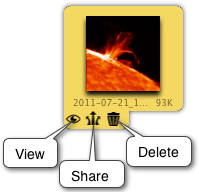 Hover your mouse over a thumbnail video or image in your History to see a larger image and more details. Three icons appear as well:
Click the

 

View

 

icon (or double-click the thumbnail) to open the content in the Jing Preview Window. Once in the Preview Window, you can add additional annotations (images only) and share your image or video to a new location.
Click the

 

Share

 

icon to re-copy the image and video's link back to your clipboard. This is handy when you need to share something again.
Click the

 

Delete

 

icon to delete your capture from the History

 

and its stored location.
Some parting History tips:
Your History is specific to the computer you are on. If you use Jing on multiple computers, only the captures made on a specific computer will appear in the History.
The History can get a little crazy once you have dozens or thousands of captures. It's a good idea to name the captures you think you might want later. The default date/time stamp is not too helpful when sorting though a pile of thumbnails.