Preferences and Settings
Both the Windows and Mac versions of Jing have virtually the same options. However, they are organized a little differently. Click More > Preferences (the button with the two gears on it) to access the Jing options.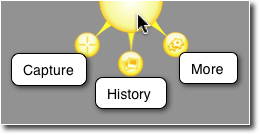 Option
Description

This is the email you used when you signed up with Jing and got your free Screencast.com account.

You can also use your email and password to sign in to Screencast.com and take advantage of its features.

Setting up a capture hotkey is the fastest way to initiate a capture. For example, you could make Alt + J bring up the Jing capture cross-hairs so you don't have to interact with the Sun Launcher at all.

If you use Jing in many educational or corporate environments, you may be behind a proxy server. If you don't know the correct settings you may need assistance from your information technology staff. The Mac version of Jing does not have proxy settings.

Did you know you can create buttons to send Jing captures to a variety of destinations including Flickr, FTP, Twitter, and Facebook. You can also create button variants. For example, you might have two Screencast.com buttons pointed to different folders, such as one for work and one for personal content.

Choose whether to have Jing start automatically when your computer does. You can also remove the Sun Launcher from your desktop and use Jing from the system tray (Windows) or menu bar (Mac) instead.

Jing saves video captures in the SWF format.

If video hotkeys are enabled, on Windows, F7 stops your recording, and F8 will pause and resume your recording. On Mac, you can pause and resume your video by using the same hotkey combo you use to initiate the capture. Mac cannot stop recording outright, but you can pause, then use your cursor to click the stop button.

Choose which audio device you'd like Jing to use when you narrate videos. Jing remembers what you picked and uses it until:

You come in here and change it.
Your list of possible audio input devices changes. Jing prompts you to pick one when you start to record a video.

On Mac, this is located under the "Help" button. When this is checked, you're giving Jing permission to send TechSmith anonymous usage data--like whether the capture was an image or video. Click More details in Jing to see the specifics.