Use Jing with a Proxy Server (Windows Only)
Many educational institutions and corporate workplaces utilize proxy servers to act as a filter between the end user and the open Internet.
As shown in the image below, Jing tries to automatically detect the settings. (Jing reads the settings from Internet Explorer.) For a lot of people, this works fine and you won't have to spend one more second worrying about proxy settings.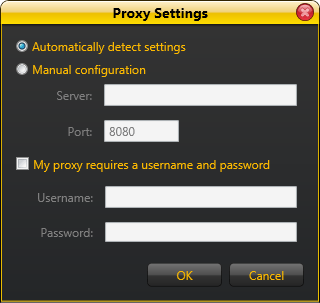 Some environments require manual configuration. You will likely need to obtain this information from your Information Technology staff. Some environments may also require authentication--meaning you have to be signed in with username and password credentials. Oftentimes, this is the same username and password you use to sign in to your workplace computer.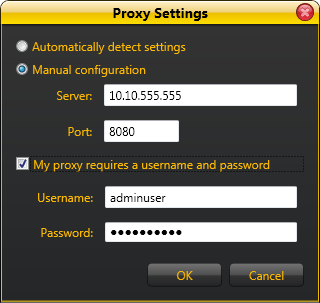 To access proxy settings, click More > Preferences, then under Connection settings, click the Proxy settings button.

When connecting through a proxy server, you may need to make sure that the following URLs are allowed:
- *.screencast.com
- *.techsmith.com
- jing.auth.techsmith.com
- update.screencast.com
If you have proxy troubles, please refer to this support knowledgebase article, and contact your Information Technology department before contacting TechSmith Technical Support.