The Save Button
The Jing Save button functions like the way you're probably used to saving. Click Save, choose a location, and confirm. However, if you find yourself constantly saving to the same location, you can make additional Save buttons that will instantly save your content to a specified location.
To create a Save button: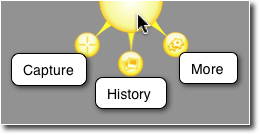 Click More > Preferences.
Click Customize Jing Buttons.
Click New.
Give the button a description. For example, if you're saving to the Desktop, you could call it, "Save to Desktop". You could also name it "Desktop" or "Fred".
If you want Jing to always save to a specific location, click the drop down and select Other... instead of Always prompt me.
Navigate to the location where you would like this button to send your content. This also includes accessible network or shared folders on other computers. When you're in the right location, click Select or OK.
Click Save.
What does "Clipboard contents" mean?
After you save an image or video to some location, Jing copies a link to your clipboard. The default is a direct link to the content. For example: /Users/jing.user/Documents/Jing/content-filename.png.
Note that the link may not work in all circumstances. If you send this link to a friend or colleague, it's possible they will not have access to where the file is saved. A similar example could be if the link is accessible at work, but inaccessible to you from home because you do not have access to the workplace file system.
Jing can also return custom code you enter. This is a rather advanced topic and you can learn more here.