Jing Startup and "Sun" Options
There are three Sun-related options.
Move the Sun Launcher to a different location
Start Jing when the computer starts (or not)
Hide the sun and use Jing from the system tray (Windows) or menu bar (Mac)
To move the Sun Launcher:
Click on the sun, and while holding down the left mouse button move the sun to a different edge of your desktop.
If you're having trouble on a Mac, try holding down the Shift key and click on the sun. While holding down the mouse button, you can move the sun to a different edge of your desktop.
Please note that there are some limitations as to where the sun launcher can be placed. On Windows, you can't place the sun near the start menu or in the corners. On a Mac, you have to stay away from the dock and the menu bar.
To configure startup and launcher options:
Click More, then Preferences.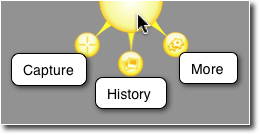 Note that if you hide the sun and later change your mind you can right click Jing in your System Tray or menu bar and then click More > Preferences to modify an option.