Take Your First Capture
So you've installed Jing, but now what? Learn how to take your first capture, and we bet you'll get the hang of Jing very quickly.
Do you see the sun? It looks like the image below--the faint one without the mouse cursor. It's discreetly tucked away somewhere on the edge of your screen, always ready when you need to make a capture. (Oh, and you can always move or hide the sun if you want.)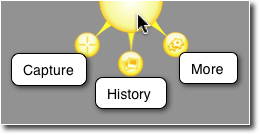 Taking your first capture:
The general workflow is to select something on your screen, then choose whether you wish to create an image or video. Record or annotate as desired, then save or share your finished capture. Below is a more detailed breakdown.
Mouse-over the sun and three little rays appear.

The one with the cross-hairs is

Capture. This is how you start your capture.
The one in the middle is

History. Copies of your captures are located here.
The one with the two gears is

More. There are many settings you can change in

More. For example, you can setup Hotkeys, or make it so the Jing sun doesn't appear on your screen.
Click

Capture.

Select an area

of your screen to capture.

You can select a window, part of a window, or click and drag the cross-hairs to select a region.
Decide if you want to capture an image or video. For this first capture, we suggest you click the

Image

button. You can add arrows, text and highlights to images.
If you decide to record a video, note that if you have a microphone, you can narrate your video in addition to capturing the action on the screen. Videos are limited to 5 minutes in length for Jing. Need to create a longer video? Check out Snagit.

Do something with your finished capture.

You could

save

the capture to your computer.
You can also

copy

the image to your

clipboard. This makes it easy to switch to another application like a document or email and paste the image.
Sharing to

Screencast.com

returns a convenient link which is copied to your clipboard. This is a very powerful option in that you can paste the link into chats, emails, and instant messaging clients.
That's the basic idea! You quickly capture an image or make a little video. Then, you either share it or save it!
Please check out our Frequently Asked Questions and other things you might like to know.
For all technical support issues, please contact TechSmith's free Technical Support. Have an idea to make Jing better? Share your feedback!