Using Chat to Communicate with Stakeholders
Use the built-in chat feature in Morae to communicate among observers and with the recorder before, during, and after a recording. If the Chat Login window does not launch with the application,
In the Recorder Main Menu, select View > Chat.
In the Observer Main Menu, select View > Chat.
The Morae chat window appears. Enter a username in the Chat Login window and click OK.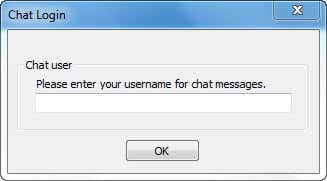 Note: If you want to change the color associated with your username in the chat, exit the chat window and login again. You will be assigned a new color.
Chat Using Recorder and Observer
Make sure the chat feature is viewable in both applications. You can verify this in both applications under Main Menu > View.
In Observer, the chat window reads "No Chat Available" until the observer connects to Recorder. Any other observers that have enabled chat and connected to Recorder are added to the chat.
In Recorder, the chat window minimizes with Recorder once the recording begins. Regardless of whether or not you capture chat data in your recording, the chat remains available throughout the recording, and is accessible by expanding the Recorder window.
If, at any time, the participant or facilitator exits out of the Recorder chat window, they can open it again by going to the Recorder Main Menu > View and checking the Chat option.
Observers who disconnect from the recorder are disconnected from the chat, too.
Chat Among Observers
In the Recorder Main Menu, select View and deselect Chat.
In the Observer Main Menu, select View > Chat.
Once the Observer connects to the Recorder, the chat window will open, allowing the observer to chat with other participating observers.
Capture Chat Data
In Recorder, under Recording Details click Modify Recording Details.

To capture chat data during the recording, under Capture Options, select Chat in the Data grouping.
Deselect Chat if you do not want to capture chat data. You can still chat between observers and the recorder during the recording, even if you do not capture the data as part of the recording.
Click OK.
Import, Search, and Analyze Chat in Manager
If you opted to capture chat data in your recording, you can open and analyze that data as part of your imported recording in Manager. To access the chat data in Manager,
In the Analyze tab, select the recording from the Project pane.
In the Study pane, select Modify Search and check Chat Text. Modify the search further by choosing to include all chat text or specific chat text in your results.
Chat entries appear in the Search Results pane with other events to be analyzed.
To learn more about Analyzing Session Data, watch the video tutorial on this topic.