Convert a Morae RDG to an AVI or WMV
If you would like to play or edit Morae recordings in programs other then Morae, read the following for options to convert your Morae recordings (RDG files), to an AVI or WMV file.
In this lesson we will cover:
Create WMV File During a Session
You can save a WMV with your recording. To do this, check Save session as WMV when connecting to Recorder from Observer and select a location to save the file.
Saving a WMV does not affect the RDG file.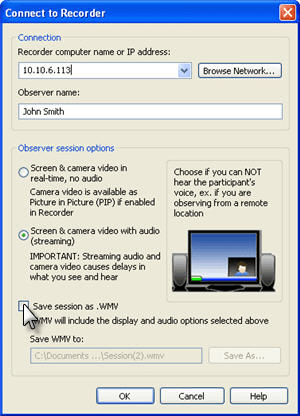 Create an AVI or WMV After Recording
After recording sessions, you may want to covert the RDG files to AVI or WMV.
To convert:
In Morae Manager, open an existing project or create a new project that contains the recording(s) you want to covert.


To open a project, choose File > Open > Project and browse to your project.
To create a new project, choose File > New > Project and follow the Create New Project wizard.

Click the Present tab.
If needed, create a new Storyboard. Each Storyboard creates one video.

If you want each recording as a separate AVI or WMV file, create a separate Storyboard for each recording.

To create a new Storyboard:

Double-click the blank Storyboard tab.
 
Enter a name for the Storyboard.
 

Click on and drag a video clip onto the Storyboard.
 
Repeat steps 3 and 4 until you have each recording in a separate Storyboard.
Click the Produce Highlight Video button  from the title bar or choose File > Produce Highlight Video. The Production Wizard appears and leads you through the four-step production process.
Select one or more Storyboards to produce as WMV or AVI videos.
 
Click Next. The Video Encoding Options dialog box opens.
 
Select a compression option:

Full Motion Video (produces WMV file) — Provides a good compromise between file size and video quality.
Lossless Video (produces AVI file) — Provides the highest quality video, but may increase the size of your recording file, especially if the video contains areas with a lot of motion, such as Picture-in-Picture (PiP).
Custom (produces AVI file) — Allows you to completely customize your production configuration.

To view AVI files that are produced using the default .avi settings, install the TSCC codec on the computer.

Click Next. The Video Size dialog box appears.
 
Set the size of the produced highlight video. We recommend using the default setting, Largest video size.
Click Next. The Produce Video dialog box appears.
 
In the Produce Video dialog box, enter the destination folder name and file name for the video and choose the post-production options.
Click Finish. The rendering begins immediately. Rendering assembles all of the audio and video data into one video file based on the sequence on the Storyboard.
 
When the rendering finishes, the Production Results dialog box appears. Click Play to view the video.