Lesson 7: Graph Data
Instead of manually calculating data and building graphs, Morae creates graphs to help you share results faster, conduct more testing, and spend more time focused on solving usability issues.
In this lesson we will cover:
Graphs in Manager
You can create graphs for a single study. When creating graphs, filter the information used to create the graph and customize how the graph looks. You can save the graph settings as templates to reuse in other projects. Morae also provides a set of default graph templates.
To start working with graphs, click the Graph tab.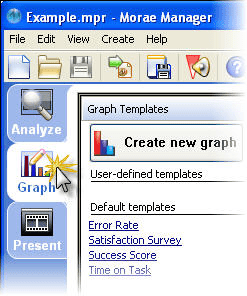 Create a Graph from a Default Template
Use the following procedure to create a graph from the default Time on Task template provided with Morae Manager.
Click the Create new graph button. Under Default templates, click Time on Task.

 
The Graph Configuration and Preview appear.

Uncheck Average (Mean) of to see the details of each task and participant. 
Click By Participant to group the results by the individual participants.
Create a New Custom Graph
To create a new custom graph:
Click the Create new graph button.
Select an analysis type from the analysis type dropdown.
Select a metric from the metric type dropdown. 
Edit the metric and how to display the data. For example, select Average (Mean) of to view the average of markers or click By Task to group the results for the individual tasks on the graph.
Click the Show Data Table icon to view the data used to create the graph. 
To save the graph, click Save Graph As.
Enter a name for the graph and click OK. 
The graph appears in the list of graphs in this study.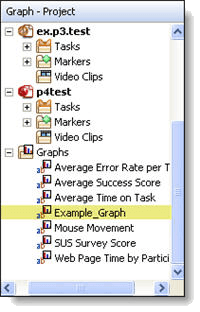 Continue with the next lesson: Create a Presentation