Video Display in Observer
Help Me Choose
The option you choose depends on your testing needs and setup. Answer the following questions:
Is your Observer computer in the same room as the participant?
Can the observer hear the participant without using the computer?
Do your observers need to see the participant video in real-time?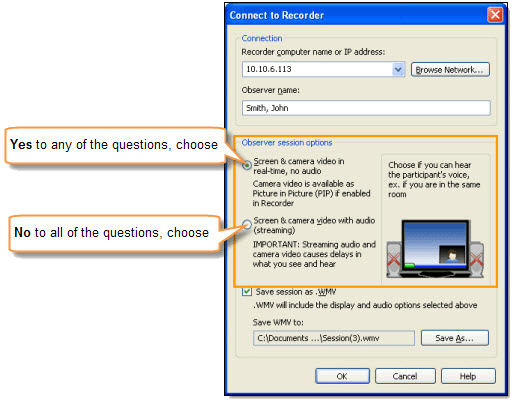 If you select the Screen and camera video in real-time, no audio option, the WMV file saved on the Observer computer will not contain audio. The audio is available when the recording (.rdg) file is imported into Manager.
Observer Session Options Explained
The Connect to Recorder dialog (Connection > Connect) allows you to select Observer session options. The option you choose here will determine if you have a video delay.
The available options are:
Screen and camera video in real-time, no audio
Screen and camera video with audio (streaming)