Lesson 8: Create a Presentation
After you're done analyzing your recordings, share your findings with stakeholders. In Manager's Present tab, combine video clips with graphs and title clips to create a highlight video to share with stakeholders. Include just the participant's screen and audio in the highlight video or add a Picture-in-Picture (PiP) window showing the participant's facial expressions.
A highlight video that shows participants trying to accomplish tasks can be much more persuasive to stakeholders than a written description.
In this lesson we will cover:
Create a Video Clip
To create a video clip, to include in your presentation:
Click the Present tab.


In the Project pane, click on a recording.


Drag the playhead to the starting point for the video clip or use the play controls.


Click the Selection Start button  .
Move the playhead to the ending point for your video clip and click the Selection End button.


Click the Create Video Clip button . The Video Clip Properties dialog box appears. Enter a name and, optionally, a text or audio note. Click OK.


Manager creates a copy of the section of the recording and stores it in the Clip Bin and in the Video Clips folder in the Project pane. Select the clip in the Clip Bin or the Project pane to view it on the Timeline.


Create a Title Clip
Use a title clips to introduce a video or act as static transitions between video clips and graphs. You can customize the color, text and duration of the title clips and add audio narration and a background image.
To create a title clip, right-click on a clip in the Storyboard and choose Insert New Title Clip.


The Title Clip Details dialog box appears. Add text, background images or change the color of the clip, and click OK.


Add a Clip or Graph to the Storyboard
In the Present tab, select a video clip, title clip, or graph from the Clip Bin and drag it onto the Storyboard. A thumbnail image appears on the Storyboard.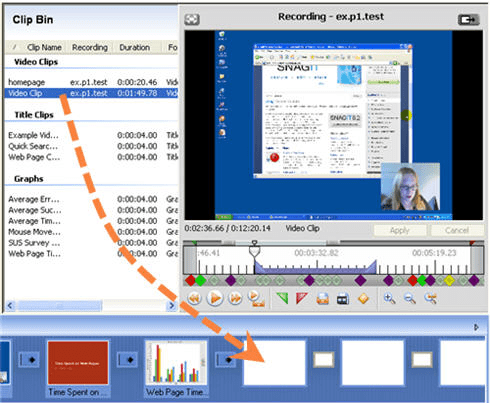 Continue with the next lesson: Produce the Presentation