Lesson 6: Set Tasks & Markers in Manager
In Manager, you can view tasks and markers set during the recording in Observer and create new tasks and markers as you review and analyze the video data post-recording. Creating a task or marker in Manager is equivalent to logging a task or marker in Observer.
In this lesson we will cover:
Tasks and Markers in Manager
A task on the Manager Timeline represents the time during the recording when the participant completed each task.
A marker allows you to flag and annotate a specific point in time during a recording. For example, when a participant asked for help, took a long time to find something, or made an error.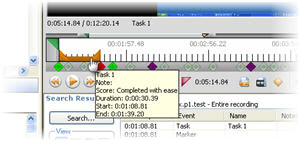 Log a Task in Manager
Create a new task on the Timeline to practice setting tasks post-recording.
In Manager, create or open a project.

Choose File > Open Example > Project to open the example project included with Morae Manager.

In the Project pane on the Analyze tab, select a recording.

Drag the playhead to the starting point for the task or use the play controls.

Click the Selection Start button  .
Drag the playhead to the ending point for the task and click the Selection End button.

To preview your selected section of the recording before creating the task, click the Play Selection button  .
If you are not satisfied with your selection, adjust and reset the Selection start and Selection end by dragging them on the Timeline.

Click the Log Task button  . The Task Details dialog box appears.
Select a task from the Task dropdown list, select a task score, add an optional text note, and click OK.

Log a Marker in Manager
To create a new marker on the Timeline:
Drag the playhead to locate the point to add the marker.
Choose the Create Marker button  . The Marker Details dialog box appears.
Select a marker Type – definition, optionally add a name, score, and audio note, and click OK.

Continue with the next lesson: Graph Data