Viewing Search Results in the Chart View
When you run a search in Morae Manager, the results appear in the Search Results pane. You can view the search results in List view, Chart view, or a combination of both.
The Chart view 
illustrates the distribution of your search results over time. The Chart view shows the search results in either line graph or histogram format.
In this lesson we will cover:
When should I use the Chart view?
Use the Chart view to visualize the number of events that occurred in a given time interval. At a glance, you can see where activity occurred and, sometimes more importantly, where there was no activity at all. This is a good way to quickly identify potential points of interest to investigate.

How does the Chart view work?
The X-axis of the chart is Time, which is the duration of the entire recording or the section of the recording you searched.
The Y-axis is Density, which is the number of events that occurred in an interval of time.
Each circle (on a line graph) or bar (on a histogram) marks the number of events that occurred in a time interval.
Right-click on the chart and choose Chart Options, or choose Search > Chart Options to change the graph scale or the graph style from a line graph to a histogram.
To see this in action, try the following procedure:
Open the Example Project in Morae Manager.
(File > Open Example > Project)
Open the ex.p1.test recording.
Click Search. In the Search Editor, select Mouse Clicks, and click Search Now.
In the Search Results pane, click the Chart view icon. The search results are shown as a chart.


Look for a peak in the chart. A peak represents a high number of mouse clicks in a time interval.


When you find an area of interest, you can do the following:
Hover over circles to see specific information about a time interval.
Click a circle to go to that specific point in time in the video.
View the video around that point to see what took place in the session.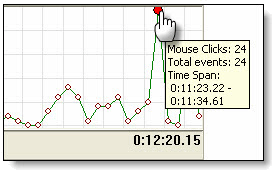 In our example, you can see that the participant clicked the mouse 24 times within 11 seconds. Play the video and you see that she was not able to find the information that she was looking for and used the mouse to click and scroll through the Web page.