Common Snagit 12 Trial Questions
How do I purchase Snagit?
Where do I find my software key?
Where do I enter my software key?
How do I get my old version of Snagit back?
How do I uninstall Snagit 12?
Purchasing Snagit is simple and easy with the Snagit trial already installed. Simply open the Snagit editor and click on the "Buy Now" button. This will take you to the Techsmith website, where you can purchase a software key to unlock your copy of Snagit.
If you purchased directly from TechSmith, your key is in your email receipt. This email is sent from custservice@techsmith.com with the subject line: TechSmith Order Number. If you purchased a physical copy of Snagit, the software key is located under the CD.
Sample Key: U1234-K1234-E1234-Y4321-S9876
You can enter your software key in Snagit Editor or in the trial window.
In Snagit 12 Editor:
Go to File > Enter Key. This will bring up the Thanks for buying window.
Enter your software key.
In the trial window:
Click Unlock with a Software Key
Enter your software key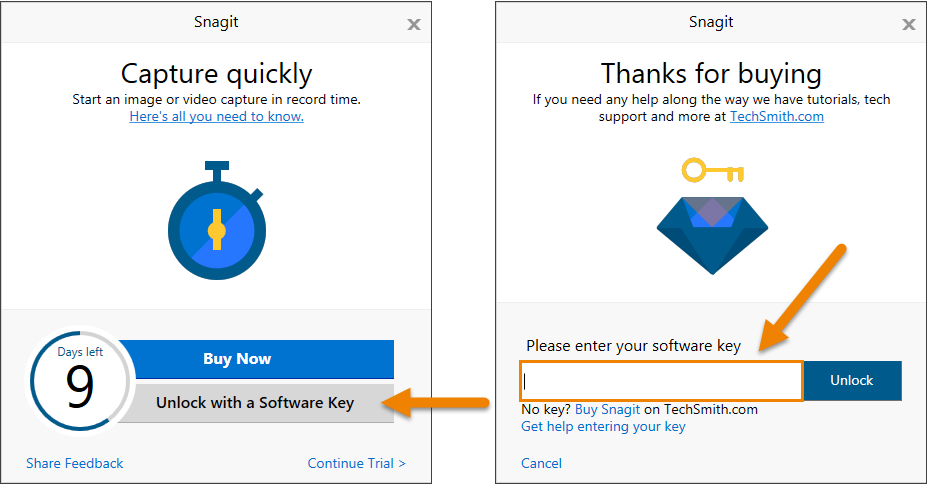 Tips for entering your software key:
Make sure there are no extra spaces before or after the software key.
Make sure that all instances of zero or the letter O are correct. Sometimes it can be hard to tell the difference.
If possible, copy and paste your software key to avoid potential typos.
If you decide not to upgrade to Snagit 12 and wish to go back to your previous version, you will need to do two things:
Make sure you still have your old version installed.
Uninstall Snagit 12.
To check for previous versions of Snagit on Windows Version 7 or earlier:
Go to Start > Programs > TechSmith. You should see Snagit 12 and Snagit 12 Editor. If you previously had Snagit 11, it will also appear in this folder.
To look for Snagit versions 10 and earlier, go to Start > Programs > Snagit.
To check for previous versions of Snagit on Windows 8:
Enter "Snagit" in Search to display any installed versions of Snagit.
Once you have confirmed you have a prior version installed, you can uninstall Snagit 12.
Open the Control Panel and go to Programs and Features.
Select Snagit 12 from the list of programs.
Click Uninstall.

If you want to keep your Snagit captures, make sure to select Keep Files before clicking Uninstall.
Once Snagit 12 is uninstalled, the capture hotkey should launch your prior version of Snagit.
Still have software key questions? Check out this article.